Injured Eagle turns into MLB Draft Prospect
Ronnie Taylor recovers from a torn UCL injury
Senior Ronnie Taylor has been playing baseball since the age of 4, but his journey from a freshman on varsity to a senior committed to Wichita State has not always been that straightforward. During Taylor's sophomore year, tragedy struck as he encountered a serious injury to his throwing elbow.
"[Having] to get Tommy John surgery is a terrible process because you literally cannot do anything for 12 months," Taylor said. "[Rehab] took up my entire sophomore and part of my junior year."
Tommy John surgery is the process of repairing the ulnar collateral ligament (UCL) in the medial elbow with another tendon from one's own body. A UCL tear is caused by repetitive stress to the part of the elbow that bears the most stress when throwing a ball.
"[To recover] I mainly had to do stretching drills where the physical therapist would straighten my arm just to get the muscles moving again," Taylor said. "They said if I kept working hard I could come back a stronger and better baseball player."
Due to the new tendon in the throwing elbow, a pitcher's velocity can return to the level it was before the wear and tear of the UCL occurred. This is why Tommy John surgery has become a very common practice in baseball leagues.
"It's normal for us pitchers to get the surgery, but it just really sucks for me to get it so young," Taylor said. "A lot of guys do get it nowadays, so I wasn't concerned going into it."
Taylor's confidence was justified as he rejoined the team the next year and pitched well enough to earn a scholarship to Wichita State University. However, Taylor may never reach the Wichita State campus because he may have the chance to play professional baseball.
"My coach has been talking to some [scouts] to get them to watch me when the season gets going," Taylor said. "If I was to get drafted, I would probably try and go play lower A ball depending on what they offered."
Taylor has the possibility of getting drafted because of his 6-foot-3 stature and hard-throwing fastball. Taylor is currently ranked as the 30th best right-handed pitcher in the state of Texas according to the Perfect Game rankings.
"I pretty much rely on my fastball. It gets up to around 94 mph, and my slider can hit up to 85 mph," Taylor said. "I just throw it as hard as I can and hope they don't hit it."
To put things in perspective, the average MLB fastball for the 2015 season was 91.8 mph according to MLB Statcast. This is why the possibility for Taylor to get drafted is the highest it has been for an Allen player since Kyler Murray was ranked 41st in the state as a second basemen.
"[This season] I want to stay healthy and keep getting stronger so I can throw harder and improve my game," Taylor said. "I [have] been trying really hard to stay committed and focus on my game to become successful."
Last season Taylor struck out 23 batters in only 16 innings, good enough for an average of 1.44 strikeouts per inning. Taylor's innate ability to pitch has allowed his baseball career to have a number of possible opportunities, but one thing is for certain.
"I want baseball to be my job," Taylor said.
About the Writer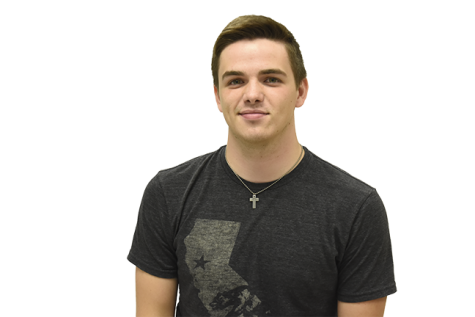 Jackson Stone, Sports editor
Senior Jackson Stone loves sports, Mizzou, taking photos and the show "Breaking Bad." He plans to go to Mizzou to study sports journalism when he graduates.