Allen Emerges Victorious in Battle Against Belton
Hang on for a minute...we're trying to find some more stories you might like.
The Allen Eagles won their second playoff game 24-7 in a defensive battle with the Belton Tigers at Mesquite Memorial Stadium. Both teams had been averaging almost 40 points per game on offense coming into the contest, but combined for only 31 points in the game.
Running backs Brock Sturges and Kirby Bennett were the heart of the offense, as they combined for 212 rushing yards and one touchdown. Senior quarterback Mitchell Jonke was phenomenal under pressure on the night, as he was able to make several accurate passes while being hit in addition to picking up multiple first downs with his feet. Jonke accumulated 143 total yards on the night as well as two total touchdowns.
"I know if I hand the football off that we're gonna get five yards every time," Jonke said. "So I don't have to feel as much pressure to throw the football. I just try to make plays for my team."
The defense had their best game of the season thus far, as they physically imposed their will on the Tiger offense throughout the game and were dominant in the red zone. The Eagle defensive line put the Tiger quarterback under duress all night and sacked him several times. The defense's only weakness was their ability to defend the run, as they gave up 174 rushing yards at 3.87 yards per carry. The pass defense was outstanding though, as they held the Tigers to 186 passing yards and forced one interception.
"It was a great game," senior defensive lineman Cole Maxwell said. "[Belton] came out hard. We had a target on our back, but we came out with the W."
In a road game over an hour away from Allen, the fans also had a huge presence. The game was played at a neutral site, but Eagle fans outnumbered Tiger fans nearly 3 to 1. Despite the temperature sitting in the low 50s, the Eagle fans stepped up when the band was silenced by the refs and grew incredibly loud as the game wore on, aiding the defense on several key third downs.
"[The fans] are really important," Bennett said. "They motivate us. The Allen Eagle fan base is pretty amazing."
Next week the Allen Eagles will take on the undefeated San Angelo Central Bobcats in San Angelo. Stay updated with all the action here at The Eagle Angle.

About the Writer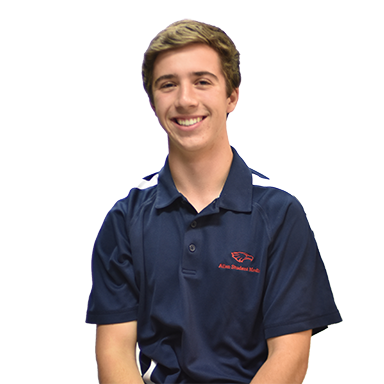 Parker Primrose, Sports editor
Senior Parker Primrose is a huge Denver Broncos fan, has a golden retriever for a brother and loves the movie Forrest Gump. Primrose plans to attend [insert...