New coach, new season, same story
Hang on for a minute...we're trying to find some more stories you might like.
Nine weeks into the 2016 season and eight months into the Terry Gambill era, the Allen Eagle football team is back to its winning ways and soaking up the Friday night lights.
Gambill, hired as the head coach in January after Tom Westerberg left for Barbers Hill, has his team off to a 8-0 start behind an intimidating defense, an ascending offense and dynamic special teams play.
"I think we've shown great improvement from week to week," Gambill said. "Bottom line though, we have to stay humble. We cannot feel like we've accomplished anything. We have to stay humble, we have to come to practice and improve on a daily basis."
When Coach Gambill was hired, he brought with him a new system for the offense. Although there have been growing pains, senior quarterback Mitchell Jonke said he feels that the offense will continue to get better.
"When [Coach Gambill] came in this spring, I spent every morning with our offensive coordinator Coach [Derek] Alford learning the offense and then helping the other guys as I learned," Jonke said. "Once we get into more of a rhythm with the new offense, I think we can definitely get things going a lot better and keep things rolling in a positive direction."
The Eagle offense has been able to increase its scoring output every week, going from 25 points in week one against Hoover (AL) to 69 points in their battle with McKinney Boyd. Senior wide receiver Tevyn Stevenson attributes the point totals to how Gambill's offensive system has opened up new ways for the team to score.  
"It hasn't been that hard learning the offense because it's simple stuff just meant to confuse the other team," Stevenson said. "You get different ways to get people the ball, and you get different ways to get yourself the ball, so there's always a chance for you to score a touchdown."
On the defensive side of the ball, the Eagle "D" has been absolutely suffocating; they are yet to allow a 300-yard passer or more than four yards-per-carry to a team. They've also forced 15 turnovers this season.
"It starts with the defensive line from the defensive perspective," Gambill said. "Our defensive line has done an extremely great job, and the reason is because of our depth. We're able to roll players in. We have about eight, and those guys take great pride in what they're doing. I couldn't be prouder."
The defense has been especially stout on third down, permitting opponents to convert only 64 of 199 attempts.
"When we see third down, we know we have to get them off the field so that our offense can go out and score," senior linebacker James Tupou said. "When it hits third down we just have to say 'look at the sticks' because we can't allow them to drive down the field and score on us."
The special teams unit has also played a huge factor in the Eagles' season thus far, with kicker Michael Ewton converting 11 of 12 field goal attempts as well as 46 of 46 extra point attempts.
"Special teams has played a major role," Gambill said. "We've been able to score points, it's changed the field position, and then the third thing is that it hasn't gotten us beat."
The Eagles still have two regular season games left to play, but according to Stevenson, they aren't even close to complacency.
"Every week we always have something to improve on," Stevenson said. "Whether it's blocking, catching, the quarterbacks reading coverage and just throwing to the right guy, we just always have something. We like to get better 1 percent every week. Whatever we can do, whether it's being physical, playing faster, catching more passes, getting more blocks, running the ball, we can always get better."
The improvement the team seeks is with one singular focus in mind, says Jonke, one that will help define the team's legacy at Allen High School.
"I want to be remembered as a state champion."

About the Writer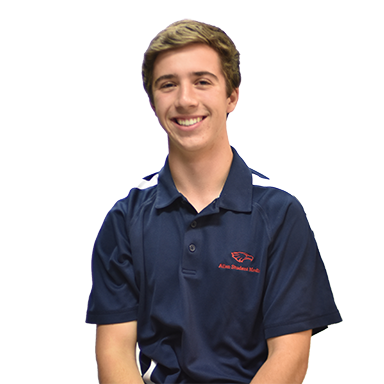 Parker Primrose, Sports editor
Senior Parker Primrose is a huge Denver Broncos fan, has a golden retriever for a brother and loves the movie Forrest Gump. Primrose plans to attend [insert...