Marching Band Through Unique Eyes
Blind Escadrille member marches on the field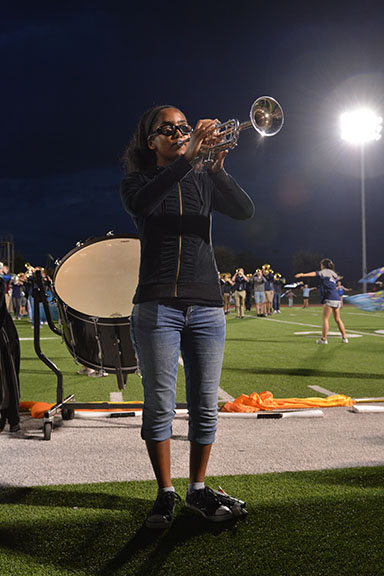 Hang on for a minute...we're trying to find some more stories you might like.
On a typical Monday night during the fall, a large portion of the student body descends onto the football field, armed with shiny metal instruments and large drums, to band practice. The size of the famously large Allen Eagle Escadrille makes it difficult to pick out any individual, but as the ensemble practices its drill, your eyes might eventually be drawn to a girl marching down the far right side of the field. It may not be obvious at first, but this member of the marching band is almost fully blind.
When she was 9 years old, Milka Yohannes began to lose her sight due to glaucoma. Now as a freshman, she is blind in her right eye, and only has partial vision in her left eye. Despite this significant visual impairment, she thrives in the marching band.
"I started playing trumpet in fifth grade, and I thought, 'I should probably join the band,'" Yohannes said. "I liked the trumpet's sound, and I thought it was fun."
Many freshmen already have difficulty learning the technique required to march, and visual impairment only makes it harder.
"Sometimes the marching is a little too hard," Yohannes said. "And it was kind of difficult in the beginning to find someone to help me."
Most of the time, a director or a fellow student guides Yohannes and helps her navigate the marching field.
"Really, it's just pointing her in the right direction, telling her if her step size is too big," band director Jeremy Rohr said. "She's pretty coordinated; she can do that."
For the first few weeks of the season, the marching band performs a basic traditional show while they learn the first movement of their UIL show. Rohr has worked with Yohannes on the traditional show to help her perform to the best of her abilities.
"I tell her when her step-outs come, and she gets the initial direction pretty close," Rohr said. "From there, I count the set for her, I tell her when it's the last set of six, and when she needs to do a flip-turn. We keep going towards the end zone, and then we go back to her home spot."
A band director guides Yohannes whenever they can, but during Monday night rehearsals, when a band director is not necessarily available, her younger brother, seventh-grader Saimon Yohannes, comes to help her. Like many of Yohannes' friends and family, his support expands beyond band rehearsal.
"When we go to church, I help her sit down, and when we go out to eat, I sit next to her, I help her get her food, and I guide her," Saimon said. "I used to get frustrated because she kept asking me so many questions. There was always stuff on her phone, and since VoiceOver on iPhone can't read the pictures on Instagram, she would want me to describe the picture to her."
When it comes to marching, Yohannes has mastered the traditional marching show but has more difficulty when it comes to the complicated UIL marching performance.
"We're currently trying to work out a situation where there's another student who can help her get the right idea, as far as maneuvering the field," Rohr said. "The plan is to perform in the UIL show, but she's not going to be on the field, right now, she's going to sitting with the front ensemble. She's going to be there to play."
Yohannes is able to contribute a lot musically. She plays with the band in the stands at football games. Some of her music is written out in braille, but she learns the majority of the music by ear.
"I just listen and figure out the notes, and I get it," Yohannes said.
Yohannes hasn't shown any signs of discouragement or negativity regarding her marching band experience, according to Rohr.
"Her biggest strength is her approach. She has a great attitude," Rohr said. "She's very flexible and very go-with-the-flow."
Her dedication and attitude toward band is evident to her family as well, according to Saimon.
"She's really into it, and she always tries to be the best," Saimon said. "Since it's one of the few things she can do that involves lots of people, she enjoys it."
In addition to the trumpet, she plays the alto saxophone as a hobby. Some band members consider marching to be a burden—she considers it as one of her passions and plans on staying in the program.
"We're doing our best to include her in every aspect we can," Rohr said. "As we work out and streamline a plan to make everything better, her participation and involvement in the program is only going to improve."

About the Writer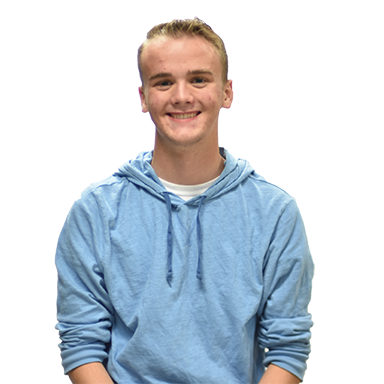 Christian Hinton, News editor
Senior Christian Hinton likes Twitter, comics and outer space. He plans to be the first person of Mars, but if that doesn't work out, he'll settle for...