Review: 'Masterminds'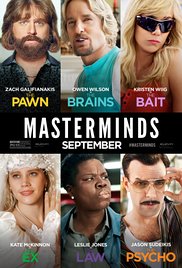 "Masterminds" is not a genius movie. It felt more like an extended "Saturday Night Live" skit. But the perfect cast, the character's ridiculous mistakes and a hilarious hitman made it enjoyable. It's a decent alternative for those who aren't in the mood to see the other new releases at the theater and just want to laugh for an hour and a half.
The film is based on the true story of how David Ghantt (portrayed by Zach Galifianakis) pulled off the second largest cash robbery in United States history with co-conspirator Steve Chambers (Owen Wilson) and his former co-worker Kelly Campbell (Kristen Wiig). When Ghantt becomes wanted by the FBI, Chambers hires hitman Mike McKinney (Jason Sudeikis) to kill him before he can confess and reveal the names of who helped him commit the crime. Kate McKinnon and Leslie Jones also co-star as Ghantt's fiancé and an FBI special agent.
The highlight of the movie is the stupidity of the criminals who do a terrible job covering their tracks. Chambers uses his share of the millions to move from a mobile home to a mansion right after the robbery, attracting suspicion from his wealthy new neighbors. Ghantt also fails to disguise himself after fleeing the country, making it easier for the FBI to track him down.
I was shocked when I found out that everything mentioned had actually happened, including Chambers' idiotic spending and the mistakes that were made during the robbery.
Though it made me laugh, I couldn't help but cringe at some parts of the film, especially the fart jokes. "Masterminds" is not a children's movie, so it shouldn't rely on such childish humor.
My theatre was roaring with laughter when Ghantt had diarrhea in a hotel pool while I sat in silence, waiting for Jason Sudeikis to return to screen with his hilarious dialogue. Even the wonderfully talented Kate McKinnon, who had me in tears laughing in most of her scenes, had a fart joke in an otherwise perfect scene. There were plenty of opportunities for better jokes that went to waste throughout the film.
I give this movie a B.  Although I liked the cast and the story, some of the jokes could have been better. I wouldn't call "Masterminds" horrible, as it is better than other comedies I've seen this year, but the humor definitely wasn't the smartest.