Eagles take down Buccaneers in an Interstate Clash
Hang on for a minute...we're trying to find some more stories you might like.
In the first game of the Terry Gambill era, the Allen Eagles came out on top over the Hoover Buccaneers (AL) in a 25-7  defensive slugfest.
The Buccaneers, who have won nine of the last 16 state championships in Alabama, relied on senior quarterback Garrett Farquhar to guide their offense down the field. Although he was able to connect on several deep passes, the offense was unable to put together a consistent attack, having six three-and-outs on the night.
"[The Allen defense] played great," Allen defensive coordinator Cory Cain said. "They got hit in the mouth on the first series, but they responded with a lot of energy and confidence, and it paid off."
Led by a suffocating red zone defense, the Eagles shut down the number two football team in Alabama (according to Max Preps), allowing only 160 yards through the air and 3.4-yards-per-carry on the ground, in addition to forcing a two-point safety. The Eagles had eight key players graduate this past year, but the young starters rose to the occasion. The defensive line spent majority of the game in the Hoover backfield.
"[The young players] learned fast," Cain said. "It is a college-type atmosphere. The guys got used to it pretty quickly, and they played well."
On the offensive side, the Eagles had an uneven night, going almost two whole quarters without getting a first down. Kirby Bennett served as the main offensive weapon for the Eagles, accumulating 84 total yards.
The Eagles had an inconsistent air attack, as starting quarterback Mitchell Jonke finished the night with only 155 yards passing and one touchdown against one interception. Backup quarterback Grant Tisdale came in on two drives, but only put up 20-yards while only completing one of his five passing attempts. But this isn't the team's ceiling, according to head coach Terry Gambill.
"[Improvement] starts tomorrow morning," Gambill said. "[We'll] learn from our mistakes, make improvements, and we'll be better."
The offensive player of the game kicker Michael Ewton had a great night, making field goals of 32, 47 and 48 yards.
When asked what the goal of the team was going forward, Ewton had one thing to say:
"State."
Next week it's a battle of the Eagles as the Allen Eagles take on the the Evangel Christian Academy Eagles at Eagle Stadium on Sept. 2. Follow along with all the coverage here at The Eagle Angle.  

About the Writer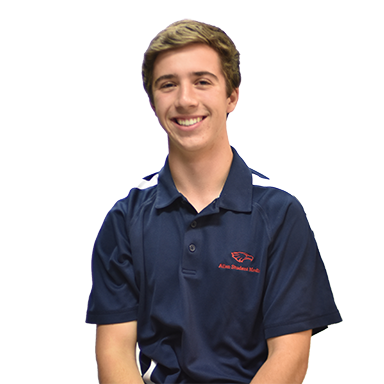 Parker Primrose, Sports editor
Senior Parker Primrose is a huge Denver Broncos fan, has a golden retriever for a brother and loves the movie Forrest Gump. Primrose plans to attend [insert...