Draft Day Dreams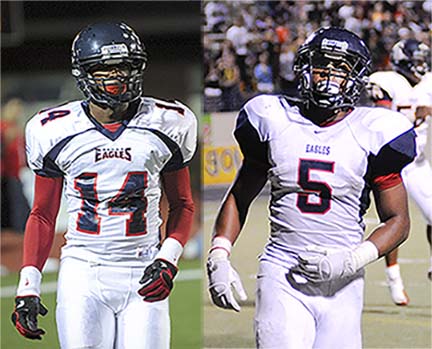 Hang on for a minute...we're trying to find some more stories you might like.
Two small kids with big dreams. That's how the journey started for Jonathan Williams and Jay Lee, two Texas kids born and raised on the gridiron. Now they're two soon-to-be celebrities, playing on football's biggest stage — the National Football League.
Within hours of the end of the NFL draft on April 30, both Williams and Lee had roster spots on pro football teams. Williams was drafted as a running back by the Buffalo Bills in the fifth round, while Lee signed an undrafted free agent contract as a wide receiver with the Detroit Lions. However, before either of them were pro players or dynamic college players, each was just a bright-eyed kid in Allen, Texas, with big dreams and a will to succeed.
"Playing football was always a dream of mine, and going to the NFL was always in the back of my mind," Lee said. "I just kind of had to put it to the test. I guess throughout the years it kind of all worked out for me."
Both starred for Allen High School, but each came up their own way. Jonathan Williams grew up in Allen, playing football for the district from 7th grade all the way until his graduation in 2012. Jay Lee moved into Allen from McKinney North his junior year, but quickly acclimated to the program. Although both were physically gifted, their coaches say it was their desire to be great that set them apart from their peers.
"A lot of it is God-given athletic ability, and the second part of that is knowing what to do with the talent that you had," former head coach Tom Westerberg said. "They were both hardworking individuals."
While playing at Allen, both Williams and Lee put up prolific numbers for the Eagles. Williams finished his Allen career with 3,884 total yards and 39 total touchdowns and was named the 26th best running back in the country according to Rivals.com. Lee graduated Allen with 1,721 total yards and 24 touchdowns, leaving as the 34th best receiver in the country according to Rivals.com. In spite of their individual successes, both cherished their time with the team the most.
"My favorite memory was not even me playing," Williams said. "It was actually my freshman year when I wasn't on varsity. I remember going to watch my brother play. It was his senior year, the first year we won state in '08. And to see them come back and beat Round Rock Stony Point at the last second was probably my best high school football memory."
The fact that both Williams and Lee put a priority on the team's success provides only a snippet of their character. As Eagles, they left a lasting legacy on coaches and teachers alike with how they carried themselves on and off the field.
"[Jonathan Williams] just was an outstanding person, outstanding football player, all around everything," Westerberg said. "Likewise, [Jay Lee's] really grown into a great football player and a great young man."
After graduating from Allen, Williams and Lee continued to find success at the collegiate level. At the University of Arkansas, Williams accounted for 2,666 total yards and 22 total touchdowns and was named to the preseason All-SEC second team by the media before a foot injury wiped out his senior season. In the last practice before Arkansas' regular season, a teammate accidentally fell on Williams' left ankle, resulting in a season-ending surgery.
"[The injury has] definitely been tough, just because of all the expectations that I had for myself going into the season," Williams said. "My religion, being focused on God definitely helps, and my family. Also just my love for the game of football. I stayed in love with the game, and that's how I stayed focused on all the goals that I've set for myself."
Meanwhile, Lee produced 1,700 receiving yards and 16 total touchdowns in 26 starts at Baylor University. Lee finished as 14th all time in receiving yards and 17th all time in touchdowns at Baylor, but what he feels sets him apart was his willingness to learn.
"I take coaching really well," Lee said. "You have to buy into the program, and work hard and do everything you can…to make yourself a better player and an even better person."
Both also attributed their college success to the foundation that was laid for them at Allen High School. Allen, a 6A school that has finished among the top five teams in the nation twice in the last three years, already had helped place four players into the NFL over the last 10 years before Williams and Lee arrived. Allen's facilities and district competition helped breed excellence.
"[Allen] definitely prepared me. Playing the best competition in the state of Texas week-in and week-out, having the coaching that I got from Allen," Williams said.
Feeling a similar impact, Lee said, "Getting the plays on the sideline and having coaches that produce players that go to the college level made it an easy transition [from high school to college]."
Much like Allen helped grow them both as players, the pair helped lay the foundation in Allen for future success. Since Lee graduated in 2011 and Williams graduated in 2012, the Allen Eagle football team has won three state championships and had an overall record of 61-2.
"I brag on them all the time, show highlight tapes of players," Williams said. "We always argue about whose high school is the best one, so [Allen's] been helping my argument out a whole lot."
After all the work the pair has done to reach their dreams, they don't quite look like they did when their aspirations were first born. The pair's built frames and athletic figures don't quite match their small, wide-eyed selves from when they first stepped foot on a football field and strived for greatness. In the end, in spite of all the changes and growth, they're still the same two Texas kids with big dreams and big hearts.
Terry Gambill, the current head coach at Allen High School, says they serve as an example of how anything is possible with hard work.
"Just from Allen, the coaching staff, the Allen Eagles," he said, "we just wish them nothing but the best in their future."

About the Writer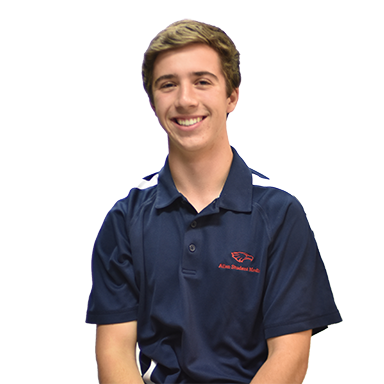 Parker Primrose, Sports editor
Senior Parker Primrose is a huge Denver Broncos fan, has a golden retriever for a brother and loves the movie Forrest Gump. Primrose plans to attend [insert...