On the Road to Awareness
Best Buddies of Allen Participates in Annual Walk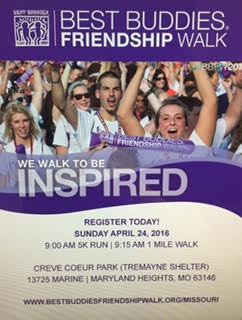 On April 9, the Allen ISD chapter of Best Buddies joined club members from schools all over North Texas in the organization's annual fundraiser: a friendship walk. School formed teams compete to raise the most money to help fund their chapter for the next school year.
"For our first time participating in the walk I think we did pretty good," Best Buddies secretary Bailey Paul said.
Club sponsor Tia McVey and Best Buddies' members set a fundraising goal of $2,000. However, they more than exceeded their expectations. They raised a total of $3,906.13.
"All of our members and all of our supporters helped us," Paul said.
Supporters of the club's members, buddies and students also came to help cheer on Allen's team during the walk.
"We had the most [students] come from any of the high schools, any of the public schools," McVey said. "We had a bunch of IB kids come out and the soccer boys came out as well."
In allocating funds for the next year, McVey and returning underclassmen plan to use the donations to host more events and activities for members and their buddies to bond over. Their first order of business: purchase tickets to all the boys' soccer games in the fall.
"[The soccer team] ran in front [the whole] race, so they could win the walk for us," Paul said.
Overall, the club earned a second place trophy for their contribution to the Friendship Walk. They trailed behind only Southern Methodist University's chapter in terms of funds raised.
"Once we get our name [on the trophy] we're going to see of we can get it put up in the front office with the rest of the UIL trophies," McVey said. "[To be able] to go up against SMU, that's a pretty big deal."