Review: 'The Jungle Book'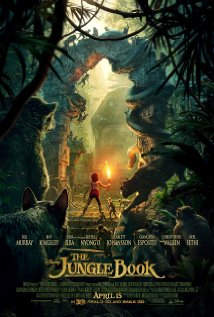 "The Legend of Tarzan," "Fant4stic Four," "Man of Steel," "Teenage Mutant Ninja Turtles:" reboots, remakes and redos. Films that make one question if the Batman mask really needs to don another face. From the ashes of these typically single digit Rotten Tomatoes scorers, every once in awhile a film rises that is worth the millions of dollars in CGI and actor coercion it seems to take to produce one of these reimaginings. Jon Favreau's "The Jungle Book" is one such movie.
Set in a lush and breathtaking Indian jungle and cast with the voice talents of Bill Murray (Baloo), Scarlett Johansson (Kaa), Idris Elba (Shere Khan) and Ben Kingsley (Bagheera), "The Jungle Book" has the ability to captivate all ages.
The animals, from tiny Flying Squirrel to lumbering Elephant, are by far the film's star features. It's hard to believe they, and most of the film's leafy setting, are computer generated. Their detailed whiskers and billowing fur ground them in near-certain reality, but one has to look no farther than the color changing eyes of Kaa or the huge, leathery hands of King Louie to find the fantastical magic that earned the 1967 version a place in children's hearts.
This is where the secret to Jon Favreau's success lies. He finds a way to invoke the sweetness and whimsicality of the film's predecessor while still crafting something new. This version of Mowgli (Neel Sethi) and his tale are much darker than the original. The jungle is revealed to not be a place of solely sunshine and sing-a-longs, although a few beloved old tunes are incorporated, and I would be lying if I didn't say I jumped in my seat a few times.
Shere Khan is crafted to be a wonderful villain, and if examined solely on the base of its plot, "The Jungle Book" is excellent storytelling. However, it also deals with important themes of belonging and family.
In the end, "The Jungle Book" excels as a story, a film and a lesson. It transports the viewer to the heart of its exquisite jungle and into the hearts of its characters. Whether young or old, lover of the cartoon version or not, it's hard not to keep a faintly nostalgic smile at bay by the first time the opening notes of "Bear Necessities" are heard. I give Disney's "The Jungle Book" an A+.