The DNA of a Dynasty
Allen Wrestling Continues Winning Ways
Hang on for a minute...we're trying to find some more stories you might like.
When people in Allen hear about "the streak," the initial thought is typically the school football team's 57-0 run and three-consecutive state championships. In reality, the school's longest streak belongs to the wrestling team; they've been winning state titles for the past seven years in a row.
"Our goal is always the same," wrestling head coach Jerry Best said. "To win district, regionals and state, and hopefully jump into that top 10, top five in the nation. Every weekend, our goal, and our kids' goal, is to add 14 weight classes, 14 state champions."
Best, who has been the head coach at Allen for the past 14 years, has been the recipient of nine different awards during his time here. During his tenure as head coach at Allen, he has led the team to 13 district championships and eight regional championships.
"[Coach Best] just believes in every single one of his wrestlers and wants us to believe in ourselves," senior wrestler David Washington said. "That, to me, is what makes him so great."
The Allen wrestling program has been the Texas Dual State and the UIL State champions for the past seven years in a row. With talented seniors graduating from the program every year, the team attributes its continued success to their hard work.
"You go to practice every single day, you grind it out in the wrestling room, you work hard, you push your teammates, and each and every day you get better," sophomore wrestler Logan Brown said. "It just pays off in the tournaments."
To the wrestlers, the program represents so much more than just a team. According to Washington, it's unlike anything he's ever experienced before.
"[The wrestling program] is awesome," Washington said. "Just being in a program with amazing teammates that love to push each other to the max every day, and an outstanding coach who just wants the best for us as individuals and the team, there's nothing like it."
The competition takes place on and off the mat, as wrestlers compete for the top spot and the chance to represent Allen in tournaments.
"[Guys] want to work so hard to be on that varsity spot," Brown said. "And they want to work so hard to go to state. They don't want to be on the JV team. It's constant battles between brothers each and every day."
The program trains throughout the year, and after all the hours they've worked together, Best says the team has developed a special bond.
"They train hard together," Best said. "And when you work hard together all the time, you trust each other. The kids are all bonding, they know each other, and they're becoming a family."
Senior wrestler Dalton Miller believes that family atmosphere is a big part of what allows Allen to be successful.
"We are like a family and support each other on and off the mat," Miller said. "[The season is] very challenging, but it's fun to win as a team and to push each other every day."
When it comes to what to expect from the wrestling team going forward, Brown didn't mince words:
"Keep winning state, keep that streak going, and dominate whoever we go against."

About the Writer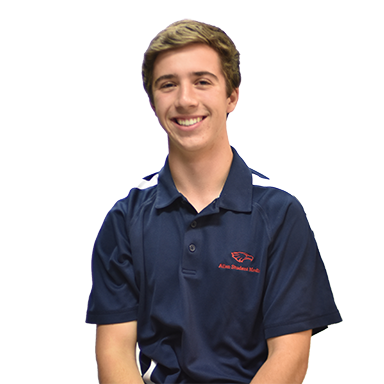 Parker Primrose, Sports editor
Senior Parker Primrose is a huge Denver Broncos fan, has a golden retriever for a brother and loves the movie Forrest Gump. Primrose plans to attend [insert...