Playoff hopes strong for Allen Basketball
Hang on for a minute...we're trying to find some more stories you might like.
The 2015-16 high school basketball regular season is nearing its end. Now is the time when teams are looking to move up within their division and really prepare themselves for the challenges that the playoffs present.
The Allen boys basketball team are sitting atop an impressive 20-6 record, which puts them second in district behind Plano East.
Some notable games this season include a 108-85 victory over West Mesquite, and a 69-56 win over rival Plano West.The Eagles have showcased their offensive strength multiple times, exhibited by Allen's 10 games finished with 70 or more points, but Allen's defense has been subject to improvement this year.
"[The team] needs to continue to build on defense," Jeff McCullough said.
Despite the departure of six seniors from last year's team, the addition of eight new members to this roster has really been an added bonus.
"This team is probably one of the best groups Allen has seen," McCullough said. "Our roster has a lot of depth, and each team member has the ability to go out and make a positive impact."
In order for a team to continue contending within their league, the younger players play the biggest role.
"The younger guys on the team are stepping it up," senior guard Ben Dixon said.
This proves to be very important, as Allen's roster is very versatile with younger members learning from the senior leaders and adding to depth to their already strong roster.
A notable achievement for one of the younger members of the team was when sophomore guard Jerritt Dixon was awarded the tournament MVP at the 2015 In-N-Out Burger Allen Holiday Invitational Basketball Tournament in December.
The varsity team has five games left this regular season, including three more games against rival teams in Plano. Being only one game ahead of Plano West and one game behind Plano East, these upcoming games will be extremely important to determining the varsity boy's status in the playoffs.
As for the Lady Eagles basketball team, they currently have a record of 11-8, and that places them at 5th in their division. They are currently only two games away from finishing the regular season, and the team is coming off a win Friday night in a district game against Lewisville.
"In order for us to get into the playoffs, we have to beat all the teams that we beat last round, which includes Flower Mound and that's not going to be an easy game," sophomore guard Jada Peacock said.
Even though the Eagles lost to the Jaguars back in November, the team came back and edged off the Jaguars earlier in the month with a score of 34-33, and they look to continue to use that victory as motivation heading into the next game against them.
"They've always been a major competitor and the fact that we beat them earlier means that they're going to come into the game wanting revenge, so we have to bring our A-game," Peacock said.
The Lady Eagles team has youth to them, including three sophomores and one freshman. These types of younger players are essential to a high school unit looking to build a stronger overall team.  
"They've made a huge impact, they're a joy to be with. They're so young but they're starting to play well together," head coach Deidra Rucker said.
The Lady Eagles this year have had their ups and downs this season, but when the team is having a good night, they almost seem unstoppable. The wins this season have mostly had large margins of victory, and the offensive game has been a strong point for this year's team.
The Lady Eagles have every reason to be proud of the season they've had so far.
"I don't think that people realized where the basketball program was, so ultimately we want to make the playoffs because this team is about to have a 20 win season," Coach Rucker said.
"I feel like we started off the season strong and had a decent first round. Yes, we lost some games that we shouldn't have but we're still growing as a team and family. I believe that this will be the first year that the girls make it to the playoffs in ten years," Jada Peacock said.

About the Writer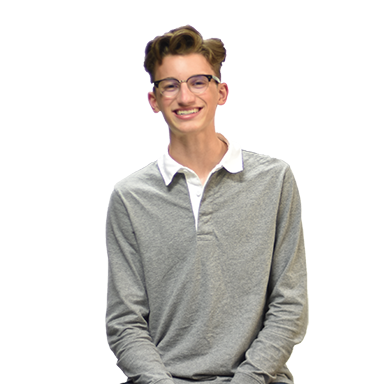 Tate Peterson, Photo editor
Senior Tate Peterson likes photography but will not identify as a photographer, likes fashion and loves his Spotify playlists. He plans on going to school...