Back to the Start
Best Buddies Raises Funds for Annual Buddy Walk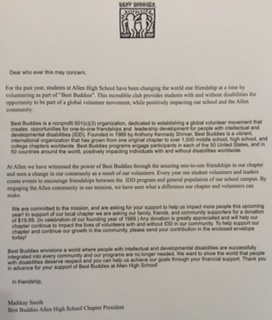 Every year, the national and international chapters of the Best Buddies Club, a program designed to forge genuine friendships between high school students and their peers with special needs, holds an awareness event known as the Buddy Walk. The Buddy Walk provides a mean for students and their buddies to demonstrate the leadership, friendship and fun the program brings to all its members.
"Every Best Buddies organization in North Texas comes together and does a huge walk," Best Buddies President Madi Smith said, "and every [school] makes a team and things like that."
The goal for each member is to raise as much as possible to donate to the organization in the spirit of the annual walk. One way buddies do this is through 1989 letters. 1989 letters are letters explaining Best Buddies' mission to form lasting friendships and asking for donations to help support the program.  
"What [the 1989 letters] basically do is they us provide an additional $19 and 89 cents [to support the Buddy Walk]," Best Buddies sponsor Tia McVey said, "and the number 1989 is significant because that's the year Best Buddies was founded."
This annual fundraising letter is sent out to friends, family and co-workers of members and their families.
"We ask that each of our members send out five of [the letters]," Smith said. "Personally I've sent out three of them so far."
The 1989 letters remind the organization and its members of the program's mission, roots and the difference even a small contribution can make.
"Hopefully they [send them out] and get $19 and 89 cents back," Smith said.