Eagles Finish the Regular Season Strong
Hang on for a minute...we're trying to find some more stories you might like.
In the final regular season game of the season, the Allen Eagles dominated the Plano East Panthers in what resulted in a 58-23 victory for the Eagles.
With quarterbacks Mitchell Jonke and Seth Green again splitting time, the Eagle offense was able to drive up and down the field all night. The Eagle's ran for five touchdowns, as Jonke ran for one touchdown, Green ran for two more, and running back Kirby Bennett added two of his own.
Jonke's lone passing touchdown came on a 79-yard catch and run by wide receiver Lionell McConnell on a tipped pass, while Green completed a 67-yard bomb to McConnell for his only passing touchdown. Green also completed a 62-yard catch-and-run to Carson Schleker. The offense was not perfect on the night though, as there were several fumbled snaps by Jonke, with one resulting in a turnover.
"[McConnell's] been a big playmaker for us these past couple weeks," offensive coordinator Kyle Westerberg said. "He's been breaking out a little bit and having some big plays. I think he's settling in a little bit and being a big time receiver for us."
The Eagle defense continued what has been a dominant season thus far, stifling the Panther ground game all night and forcing the Panther offense to be one-dimensional. Their only weakness has been the big plays that they've given up, which included a 32-yard touchdown pass and 74-yard run tonight.
"[The defense] is much more experienced this year," defensive lineman Sione Tupou said. "Ten kids coming back, that played last year, it's contributed to the strength of our defense this year."
The Eagle special teams also played a big role tonight, as kicker Connor Limpert made a 47-yard field goal before halftime and safety Jaylon Jones returned a kickoff 89-yards for a touchdown.
"[It's all about] getting my mindset right and acting like it's practice," Limpert said. "You've just got to not act like it's a game and take it easy."
The win makes the Eagles the 6A District 6 Champions for the 2015 season. Next week the Byron Nelson Bobcats (6-4) will travel to Eagle Stadium to take on the Allen Eagles (10-0) in their first playoff game of the season.

About the Writer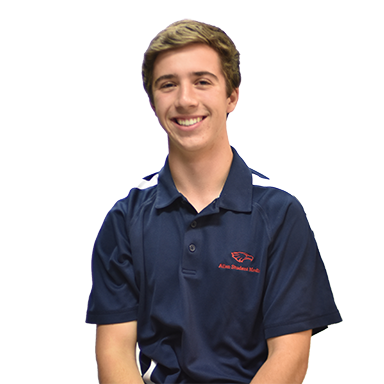 Parker Primrose, Sports editor
Senior Parker Primrose is a huge Denver Broncos fan, has a golden retriever for a brother and loves the movie Forrest Gump. Primrose plans to attend [insert...