Allen Eagles Remain Perfect with a Lopsided Win at Home
Hang on for a minute...we're trying to find some more stories you might like.
In a conference rivalry match, the Allen Eagle football team emerged victorious against the Plano West Wolves in a 69-10 beatdown at Eagle Stadium.
Seth Green started at quarterback for the Eagles and had some nice plays, throwing a 5-yard touchdown pass and rushing for a touchdown himself. But after throwing an interception in the middle of the first quarter, Green was benched for Mitchell Jonke until the game was out of hand in the third quarter. After a jittery first drive that ended in a punt, Jonke led six scoring drives, throwing for four touchdowns and running two in himself. Jonke's ability to scramble saved several drives and provided some huge plays, including a 40-yard scramble on 4th and 1 and a 56-yard scramble in the 3rd quarter.
"[Jonke's scrambles] help out a bunch," Allen offensive coordinator Kyle Westerberg said. "When you have a mobile quarterback and [the other team] has to prepare for that, it helps out that he can run and make plays with his feet."
The entire receiving core contributed to the passing game, as five different receivers caught a touchdown pass. Lionell McConnell hauled in two of the touchdowns distancing 34 and 57-yards, while Tenio Ayeni had a 35-yard touchdown reception. The running backs were not a huge factor in the offense, but Kirby Bennett had an 18-yard rush and Alex Robinson had a carry of over 30 yards. Trent Barrance chipped in a 1-yard touchdown on the ground as well.
"It's great [having a deep receiving core]," Jonke said. "It makes my life so easy, that I can trust every single receiver. Ones, twos, threes, I can trust everybody."
The Eagle defensive line wreaked havoc in the Wolves' backfield all night, preventing the Wolves' from developing any type of run game. The Wolves' quarterback was under duress all night, and their offense's lone touchdown of the night came on a 77-yard catch-and-run past single coverage by the defense. The Eagle defense forced three fumbles, with Garrett Whitaker returning one for a touchdown. This is the 4th game this season where the Eagle defense has held the opposition to 10 points or less.
"The defense is made up of good players," defensive coordinator Cory Cain said. "They're strong and athletic, and they play hard."
Next week on Nov. 6, the Plano East Panthers (6-2) will come to Eagle Stadium to take on the Allen Eagles (9-0) in the Battle of the Sledgehammer.

About the Writer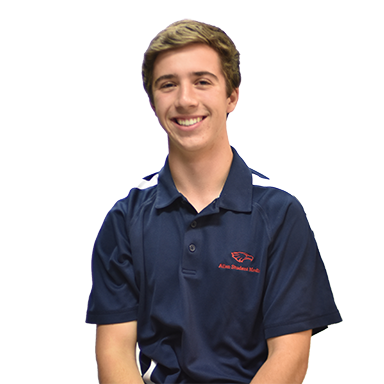 Parker Primrose, Sports editor
Senior Parker Primrose is a huge Denver Broncos fan, has a golden retriever for a brother and loves the movie Forrest Gump. Primrose plans to attend [insert...