Prom 2023 – An Enchanted Wonderland
The end of the spring semester brings about many year-ending events, one of the events being prom. This year's theme is "Enchanted Wonderland" and will be hosted at Southfork Ranch in Parker, TX on April 22 from 8 to 11 p.m. Though there is a theme for the event, students are not required to dress according to "Enchanted Wonderland" but can expect related decorations.
"I personally think, [wear] whatever rocks your boat, whatever you find most comfortable," senior and Student Body President Elena Reyes said. "I personally like to go along with the theme, considering that it is more formal and easy to go along with enchanted wonderland. I, from my perspective, would like to go along with it."
Student Council has been planning the dance for months, stating that this is one of the biggest projects for the club's seniors.
"This is kind of like our passion project," senior class ambassador Chinmai Mudigonda said. "We work really heavily in making it happen."
Tickets are for sale on Ticketspicket from now until April 22. Confirmation emails containing the student's actual ticket will be sent to the email address through which they purchased them around a week before the event. Tickets will be $75 till April 22, which is when prices will increase to $100. Students bringing out of district guests will be directed to a form for them to fill out once they purchase their tickets — guests must be 20 years old or younger. 
"When you purchase your ticket, there will be an out of district form that will be attached to your ticket confirmation, or it should be right whenever you're buying your ticket," Do said. "You just need to fill that out and make sure you put all the guests' information on there, then more details will come out later on."
Parking at the venue will be controlled by Southfork Ranch as drivers will be guided through the lot, likely located in the grass area next to the venue.
"There's going to be actual traffic people that will move you along and put you next to people so it maximizes the space for people to park," Do said.
Prior to the night, students are able to vote for prom royalty. Applications were due on April 2. However, seniors will soon get the chance to vote for the court.
"Prom Court finalists should be coming out soon," Reyes said. "That should be coming out next week, which I believe will be the week of [April] 11. So keep on the lookout for that, it will be announced on both I believe [Canvas] student life and on the [theahs_stuco] Instagram account."
Students were given the opportunity to request music to be played on prom night. Student council compiled a list from the suggestions, attempting to get music from all the genres requested.
"We have sent the setlist over to the DJ, but I am not 100 percent sure if at prom, the DJs will be willing to accept [the list] while we're there," Reyes said. "We'll have one DJ at a time, but two DJs total, which I think would be very fun. I personally think that they were very compatible with us. They've done homecomings and proms before so I think that they'll be well suited for this."
Any services opportunities for the event will be announced on the student council Instagram,@theahs_stuco.
"There might be some prom volunteering, you can come to student council meetings, which are like the first Tuesday of every month," Do said. "We usually just decorate posters and stuff for prom. But as of right now, there aren't any verified volunteer hours but if we do find any or we do seek volunteers, we will put it on the student council page."
Allen's Parent-Teacher Association will also be hosting an after prom at the high school for students to attend after the dance. Information regarding the event can be found here and is also posted at various locations around the school and in front of the cafeteria.
Leave a Comment
About the Contributor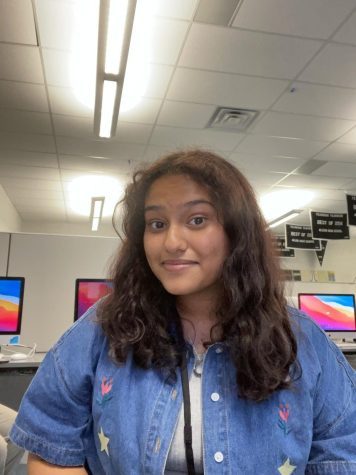 Srinidhi Jagadeesh, Co-Editor-in-chief
"I really enjoy interacting with different people for interviews and being able to tell stories in a public setting. I hope to be able to encourage our...