The Person Behind the Jersey: Aryn Roberts
The "Person Underneath The Jersey" is a series that focuses on getting to know the athletes at Allen deeper than what position they play. Meet Aryn Roberts, a junior varsity basketball player.
Q: What is something you are passionate about outside of basketball?
A: "I go to Church Eleven32 and I'm very passionate about serving there. I do the kids' service with preschoolers up to second grade. So I'm very passionate about volunteering for the church and helping out the kids."
Q: What do you want to be when you're older?
A: "I want to be an orthodontist, I've always wanted to go into the dental field. I think a smile says a lot about a person and I want to help people become confident in their smile."
Q: What is one thing you want everyone to know about you?
A: "I am a Christian athlete, and that's important to know about me because it speaks a lot about my identity and who I am. I am very involved in the church and my faith."
Q: If you had to play another sport, what would it be?
A: "I would play volleyball because there's so much energy around it. It's such a team sport, and after every play they come together and unite as one, and I love that."
Q: What is your least favorite thing about Allen?
A: "How everybody can pack the stands for a football game, but can't pack the gym for a girls' basketball game, or any girls' sport. It's a very male sports-dominated school and it's kind of ridiculous in my opinion."
Q: What is your most embarrassing moment at Allen?
A: "I've been embarrassed so many times. One time during a basketball game I went up for a layup and I got blocked badly. I got up and saluted the crowd because I was so embarrassed that she sent my shot. It was so bad honestly, so embarrassing."
Q: Who is someone that has impacted your life the most?
A: "My former assistant varsity coach has impacted my life because when I was at one of the lowest points of my life he saw me beyond just an athlete, but as a person. And he reminded me I have to take care of myself as a person before an athlete." 
Q: What is your favorite memory at Allen?
A: "When my basketball team beat Denton Braswell for the first time in three years. It was very electric in the gym, there was so much energy and so many people in the stands. My best friend, who's my point guard, just jumped up and it was so amazing and the energy was on fire." 
Q: Is there anything you wish more people knew?
A: "Women's sports are so underrated and I think that we need to start working to get involved in women's sports. Promoting it more, and acknowledging the strength it takes to be a female athlete in Allen and professionally."
Leave a Comment
About the Writer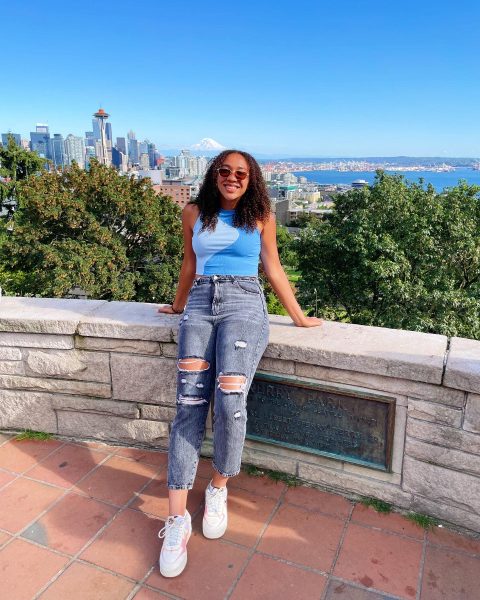 Sydney Williams, Online/Social Media Editor
"I am an avid reader and love being on the news staff. I'm also a soccer player and play for DKSC and Allen. I'm super excited for this year."