The Allen Fashion Archive
The owners of AHS Outfits Archive, an Instagram account that showcases the distinctive style of students, discuss the meaning of fashion and creative self-expression. 
While many people might explore their own style, there are others who regard fashion as a much deeper interest. People who rummage through obscure corners of the internet to find that one piece to add to their collection or take the time to put together a meaningful outfit. AHS Outfits Archive intends to document such students and create a space that understands the intricacies of free expression. 
"I wanted to kind of explore the side of the school that wasn't shown in the yearbook," senior co-owner Sonny Moore said. "And just kind of highlighting people that typically don't get highlighted, because they're unique. And no matter if the unique is insane, or just a little bit different. I wanted to be able to highlight that."
Discovering fashion, the owners said, often coincided with a change in personality. For senior Donovan Watkins, who says his wardrobe is "sporadic," his style began as endlessly matching pieces and standing by custom Nike ID 2016 Hyperdunks, but now he has an inclination towards Vietnam War-era jackets and other similar pieces. 
"I've progressed from that [older style] a lot," Watkins said. "So I took the matching stuff, and I was like, 'Okay, how can I basically elevate this' as I was just wearing basics, jeans, masks, and stuff like that. So after that, I got my first pair of Cuban heel boots. And that was like the biggest venture for me, ever. And that was the first thing where I felt so good." 
Ideas for outfits typically come from social media and online archives that specialize in featuring vintage pieces that are not commonly sold.
"I always found a lot of inspiration from this magazine called FRUiTS," Moore said. "It started back in the '90s by a man named Shoichi Aoki. And he took a lot of street photography of these kids in Tokyo in this district. And I get most of my inspiration from there. I really like a lot of punk stuff." 
Besides deriving ideas from past styles, the owners also find inspiration among each other. 
"Ironically, Sonny is a part of [my inspiration]," senior co-owner, who also plans to become a personal stylist in the future, Jacob Herron said. "And then a lot of music and icons in music. So recently, there's been a lot of rave core. With like, it's flyers and its own fashion. Like '70s rock and bell bottoms." 
A large emphasis with the AHS Outfit Archive is anti-consumerist practices such as buying secondhand and altering older clothes to fit their current interests rather than constantly purchasing new in order to follow trends. 
Moore said, for instance, she searches around Japanese proxy services to find secondhand items. She said that she spends a considerable amount of money on pieces because she thoroughly likes the item and continues to wear it. When she feels done with a piece, she said she will donate or resell rather than throw it away. 
"I feel like when people build a closet, they cycle through clothes, " Moore said. "So if you know something is just a microtrend that is at Forever 21, then don't buy into it. You want to buy pieces that are going to last for the longest time." 
According to Good On You, the rise of accelerated trends has significantly contributed to overconsumption and waste, and for Herron, a notable result of microtrends is the depersonalization of style. According to Herron and Moore, finding Shein, a popular fashion brand that is known for affordable and trendy clothing, at a thrift store is a prime example of the destructive state of fashion. 
"TikTok has pretty much taken the small things. Like let's say, things that are very out of the norm in the grand scheme of society, but they've created a community with such an ease of access to it, that it has become a lot bigger than people," Herron said. "I think they perceive, yes, it is still such a small community, but it is normalized. With that, it also just becomes uber capitalistic in nature where it's like, 'Guys, cyber Y2K, cyber Y2K.'"  
Herron said  rapid trends are "diluting the true origins" of styles, and people are participating "without knowing the true origin and history of what [they're] wearing. And it is like putting up a mask."
Avoiding fast fashion comes with challenges, especially if focusing on vintage pieces, where purchases can become pricey or hard to find. 
"What I want are all from like '90s catalogs in Tokyo," Moore said. "So I have to do the most degenerate digging online. And then I have to spend $50 on the piece and $100 on the shipping."
Targeting costly archived pieces transforms fashion into something like an investment, Watkins said. 
"It gets expensive," Watkins said. "I mean, like, a lot of the pieces that I'm looking at right now? They're even secondhand. They're just so astronomically [priced].  I have to save up across like two paychecks. It can be an investment because even once you build up a bunch of pieces, once you don't wear that piece anymore, you still get a lot of money back."
The AHS Outfits Archive plans to continue spotlighting students who have a prominent interest in fashion and tailor the photoshoot to the person. 
"It depends on the person," Herron said. "Usually we do the poses and everything based on how the person styles and [their] personality."
Despite being comfortable in how they look, the owners said they have experienced being treated differently by others based on their style. 
"You can tell typically artsy people stick to themselves," Moore said. "And whenever you try to cross over to the side of people that aren't like that… It's very weird. Yeah, you can feel like a wall. More people need to learn how to accept the fact that not everyone thinks the same way." 
An important reason AHS Outfits Archive began was that the owners understood fashion has an emotional significance even if others do not understand. 
"That first outfit you wear to school after figuring out you like to dress it's like, 'Oh,'" Moore said. 
Leave a Comment
About the Contributor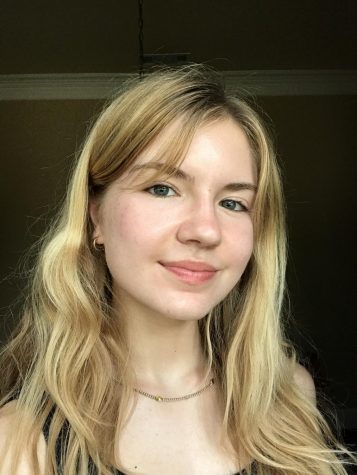 Brianna Juric, Feature Editor
"I enjoy ballet, reading and finding great music. I want to have a career in medicine and travel everywhere. I hope that by being on the newspaper team...