Reaching Out Allen
While mental health is an important topic to cover, it can be difficult to tackle. However, juniors Courtney Ortiz and Alinson Hernandez are speaking up and extending a hand to reach Allen students. 
They created the podcast, Reaching Out Allen to help with advice and tips to tackle problems that students are facing on a daily basis. 
"I'm in DECA, and we're doing a campaign involving mental health, and we thought one of the best ways to spread awareness would be through a podcast," Oritz said. "I want to help people make sure that they know they're not alone. That's why with every episode, we intend on talking about different issues so people know that they're not the only ones going through it."
The podcast airs every Sunday and takes anonymous submissions from students for the hosts to talk about and give advice. 
"I think because everybody went through COVID together, we all at a certain point have had a problem with our mental health," Hernandez said. "I feel like I can relate to people going through that now, and I know how I was able to get myself out of those situations."
Airing your problems on a podcast that your peers listen to may not be something that sounds appealing. However, the hosts have thought of this problem and are still reaching out to encourage submissions.
"We are not going to judge at all, it's totally a safe space," Hernandez said. "Even if you don't want it to be in the podcast, you can just do an anonymous submission and we can work together to give you advice. If you don't want it aired, we still want to help, because I know it can be hard putting it all out there for everyone."
In a school as large as Allen, it might be easy to feel lost in the crowds. However, Ortiz and Hernandez want to make it known that everyone has a voice and deserves to be heard.
"I just want to reach out to people and let them know they have someone there for them, and it's okay," Hernandez said. "Mental health isn't something that should be put aside or something that is corny, it's something important and something we can talk about to take care of ourselves."
While Courtney is not an Allen native, she said she is excited to leave an impact.
"I went to catholic school my whole life, and Long Island is a very different environment," Ortiz said. "Now I go to public school, with several thousand people, and it's Texas, so it's different. But I would say I'm adjusting really well."
Mental health is something that affects a large majority of people, teens included. 
About 49.5 percent of teens have or have had a mental disorder at some point, according to the United States Department of Health and Human Services, National Institute of Mental Health. 
"I think everyone has personal experiences for the podcast to talk about," junior guest on the podcast, Ashlyn Adler said. "I think it's going to make people be more eager to open up and realize it's okay to tell other people how you feel."
Sometimes, signs of mental health crisis or struggles can be subtle, such as, low energy, difficulty sleeping, excessive exercising or losing interest in things you once enjoyed, according to the NIMH. 
"What helped me get through tough times was just being around my family and talking with my friends about anything I was struggling with," Hernandez said. "For me it was noticing that I'm going through this, and knowing I'm going to do the best for me and just try to take care of myself."
Leave a Comment
About the Contributor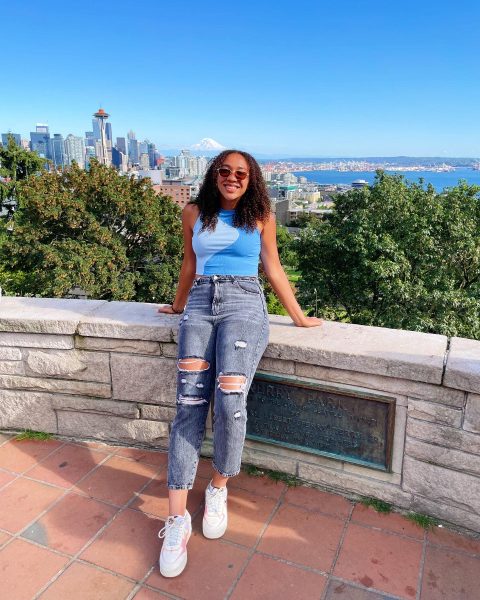 Sydney Williams, Online/Social Media Editor
"I am an avid reader and love being on the news staff. I'm also a soccer player and play for DKSC and Allen. I'm super excited for this year."