Prom Closet
February marks the beginning of prom season at Allen High School, according to Senior Waniya Ahmed. Prom is on April 22 this school year, but students have already started saving up and searching for outfits. 
Prom Closet, a service provided by the St. Andrew Women in Faith, collects donations of all items to offer to high school students needing a prom look at no cost whatsoever. This service is located in Plano, Texas, and is available Feb. 7-9, 11, and 13-18
"Our items come from people in the community, church members, school organizations or business corporations," Prom Closet volunteer Laura Rule said. "We get dresses in all sizes and styles. We also get shoes, pursues and jewelry." 
The Prom closet started in 2008 with the hopes of helping young girls who could not afford to go to prom. They started with 35 dresses in stock, and now they have a collection of over 4,000 dresses. 
"We just wanted to take the stress out of not being able to afford a prom dress," Rule said. "We wanted to take care of girls who wanted to go to prom but couldn't because of financial reasons. We become their fairy godmothers."
Most of Prom Closet's shoppers come from school districts within the surrounding areas, including Allen High School. Prom Closet has also benefited students from states across the nation, such as Washington, D.C., Oklahoma and Arkansas.
"I think what Prom Closet is doing is really unique," Ahmed said. "Searching for the perfect prom look can be difficult. I've never heard of any organization providing students free access to prom attire."
Students who would like to shop at Prom Closet must make an appointment and be present during the shopping experience. Each shopper may have a guest of 16 years or older and will be assisted by a personal shopper throughout the process.
"The only requirement is for the girl to be a high school student," Rule said. "Our shopping is by appointment only. We only allow 30 shoppers per hour and a half and have four shopping times daily."
Prom closet has been a helping hand to many families. Over the summer, St. Andrew received a letter of praise from the mom of a girl who had shopped at Prom Closet. 
"Our family was struggling with money and the death of my father," the shopper's mother Lauren Crowder said. "I didn't want to go out shopping and see dresses I couldn't afford, but when I came to Prom Closet, everyone was so welcoming and wanted me to be filled with joy."
Attending prom can be expensive, and the Prom Closet aims to provide students with an uplifting shopping experience and alleviate some of the stresses associated with financial concerns. 
 "I learned that there are people out there who watch out for others facing difficult times," Crowder said. "It's important for us all to give back when we can do so."
Leave a Comment
About the Writer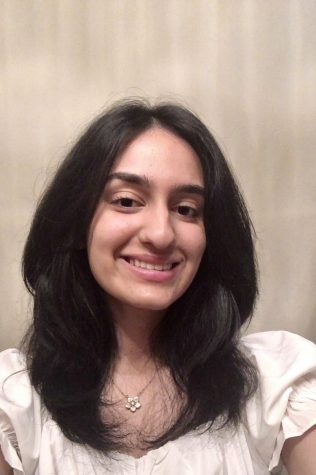 Sia Gosain, Social Media Editor
"My free time is spent watching The Office, playing with my dog, or working out at the gym. As the social media editor, I want to bring more awareness...