650 Words or 16 Minutes
Teachers are finishing up their recommendation letters, parents are digging through old forms for financial aid, the college and career department is urging students to book appointments and seniors are trying to finish up their essays.
But while personal statements for many need to be completed in 650 words or less, some students are trying to get their statements down to 16 minutes or less. 
The college application process kicks off for athletes whenever the athlete's commitment process does. For senior soccer player Melania Fullerton, the process started in her freshman year once she realized she wanted to perform for colleges and started dedicating time and effort to reach a certain college's criteria. 
"For me, soccer is a big passion, so I wanted to see myself playing in four years and just finding a new area or merging down the college options for myself because it's only certain colleges that want you there in that program," Fullerton said. "But I think the process was kind of fun just to see 'where do I see myself in the soccer area?'"
The process continues with getting schools to notice you and communicating to the right people. For senior volleyball captain Kaitlyn Parrott, the biggest part is being matched to a school that fits her requirements, regardless of sports. 
"It's just all about starting out," Parrott said. "Just reaching out to coaches at schools that you want to go even if you didn't play volleyball. That school just kind of took a cycle of researching schools, talking to the coaches, and just seeing how far you can get. Obviously, not every school can respond to you, and there's a lot of no's, but I feel like just looking for a yes, that's the main part of it." 
College recruitment process differs from the regular college application process in which there's more importance placed outside the digital application. Athletic skills, competitiveness and targeting specific programs make an athlete's process different. 
"So basically, once I started getting better times, I started talking to my coach," senior cross-country runner Parker Minter said. "My coach can reach out to college coaches for me, and I can also email of college coaches. So I've been in the process of emailing college coaches and going on websites to see which colleges I'd be competitive at." 
Although the process for athletes weighs a lot on their sports abilities, the basic fundamentals of the application process still remain, such as GPA, SAT scores and extracurriculars. 
"It depends on the school, but they definitely do look into [SAT and GPA scores] because, especially for volleyball, they don't have huge budgets, so they look for players that can get a lot of academic money paid for," Parrott said. "They don't have to pay as much for you just because full rides aren't exactly common. So it's just like they kind of look to see where you're at academically and they may be more interested in you if you are better and higher academically." 
On top of pushing themselves to break their records and impress colleges, athletes are facing heavy competition with other high schoolers around the country, adding on to the pressure the seniors already face.
"It's pretty competitive," Minter said. "I mean, it's a different world than high school cross country because you could be the best at your school, but it doesn't really have anything to do with how you're going to compete in college."
Senior athletes balancing strong competition in sports, maintaining good grades and submitting a strong basic application can make applying to colleges include more aspects and responsibilities than the average senior.
"Social life is a big part," Parrott said. "Obviously you have to give up a lot for it, and there's things you miss out on because you have practice or because it's just not best for your body at the time or something. And then just emotionally, it's really hard mentally to balance school and volleyball, especially in a high level high school and club. It's just a lot. And sometimes the stress level gets really high, and that's the biggest thing for me. That's what I struggle with most is stress and just having to cope with that while still putting on a face for volleyball."
The responses from colleges and universities also differ from the regular admissions process. An athlete is either good enough or they're not. Unlike multiple parts of an application being considered, athletes are reduced to their sports statistics, making them one number rather than the regular essay word count.
"I think it's a lot more blunt, like, if either you're good enough or you're not, or maybe you're good enough to kind of string you along and see what admissions they'll give you a lot of opportunities, a lot of hope," Parrott said. "They'll give you a lot of resources to help you and be successful with college. Recruiting is kind of just like once you get into the program, they do care about you as a person, but they kind of just take you just [as] an athlete when you're in recruiting, which is kind of hard sometimes. It's like, 'Oh, I have feelings, like that's kind of hard,' but they mostly take into account how good you are."
As deadlines start coming up, senior athletes try to balance their academics and push themselves to their limit in their sports the best they can. Although their process is straightforward and intensive, the athletes continue to display their passion and determination for their sport. 
"It's been very stressful trying to be at the best that I can," Minter said. "So especially recently, with the end of the high school cross country season coming up in the district and regionals, it's really been all I've been able to think about and focus on. So it has negatively impacted my school and just mental performance everywhere else. But I think that's kind of how I figured out that I love running so much, is just that it's really all I've been able to think about."
Leave a Comment
About the Writer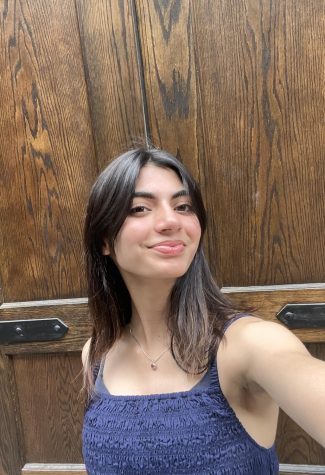 Imaal Ali, Staffer
"This is my first year on the Eagle Angle Staff. I'm senior class president, organizational director of a non-profit, and proud Swiftie. I joined newspaper...