Live, Laugh, Love LAX
With the lacrosse season coming up in spring, both women's and men's lacrosse teams are currently in their off season, called "fall ball." 
The lacrosse teams are working to prepare for their upcoming challenges in spring.
"Our team has worked so hard this fall season to prepare for our spring season, which makes everything so much better and easier when the games start going on," freshman Elise Neighbour said.
Although lacrosse is an Allen High School sport, they are not an official UIL sanctioned sport. As it is considered a club, anyone nearby can join Allen's lacrosse team without being a student.
"We have to pay for everything ourselves or through the team. You have to pay to play in United States lacrosse and to be on Allen's lacrosse," senior Dillion Watson said. 
This year for the boys lacrosse team is in a "developmental year" since they are a young team with few seniors. 
But the younger players have proven themselves to be fast learners and are ready for the games. More players will return during the spring season.
"I'm a new year goalie, but I know what this team is capable of," senior Cooper Allie said. "I know the standard of this team so I want us to go even further." 
New players have joined the women's lacrosse team, creating a roster with many new faces.
"This year we have a lot of new players which is really good for our team," sophomore AnaSophia Coughlin said. "We have two seniors that started a month ago and now they're so amazing. We are also working on uplifting our freshmen too." 
Women's lacrosse team is still looking to recruit more players this year to make the season more enjoyable. 
There is no varsity or junior varsity in women's lacrosse – everyone is put onto the same rank due to the shortage of players.
"Lacrosse is a great sport and I would highly recommend playing," Neighbour said. "We are just very lucky to have a team this year, but we could always use more players." 
Although the game schedule is not yet out, both teams are looking forward to their spring season. 
"We are going to strive for winning the state championship, we thought we could have had it last year but it didn't happen. So this year, winning that championship is the ultimate goal," junior Cooper Sorenson said.
Leave a Comment
About the Writer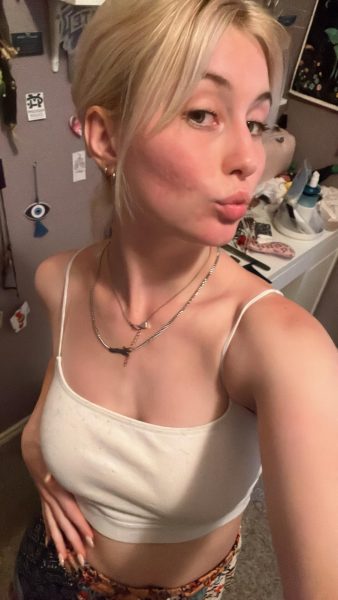 Yuliya Eruslanova, Managing & Design Editor
"This is my fifth year doing journalism and third year on the Eagle Angle staff. I love the gym and aspire to become a real estate agent."