Allen Bests McKinney, 31-28
The Allen Eagles defeated the McKinney Lions at home in a district game, 31-28. This was Allen's first game back from the bye week.
Allen won the toss and deferred to the second half. McKinney made it as far as midfield before a  sack by Allen's Nathan Marsh made it 4th and 16, forcing a punt.
Allen's offense stalled out at around their own 30 and punted right back. McKinney's Keldric Luster, a three-star SMU commit, showcased his ability of using his legs to extend plays by scrambling into Allen territory.
 Allen prevented any further damage, as Brock Winsett recorded a sack to push McKinney back. McKinney's punt was disrupted by a rush by Allen's Drew King, who forced the punter outside where he was tackled behind the line.
Allen took over on downs. Quarterback Michael Hawkins used his legs to scramble deep into McKinney's territory, where Kayvion Sibley punched it in for six. 
Allen took a 7-0 lead just as the first quarter ended.
McKinney started the second quarter with a few run plays that put them around midfield. Allen's defense stiffened and put McKinney at a 4th down and 1. McKinney went for it, and converted on the draw. A few more chunk plays set up McKinney at the six, where they scored on a strong run.
They tied up the game with about five minutes remaining in the half. Allen responded with a long, drawn-out drive of their own. They entered McKinney's red zone and burned the clock while doing it, however, they couldn't score a touchdown and instead settled for a field goal before the half. Halftime came around with Allen holding a thin lead of three.
The second half started with McKinney recovering a surprise onside kick. 
They quickly pushed into Allen territory with a few short passes. On a crucial 3rd and 2, they got three yards and put themselves inside Allen's 25. A 10-yard gain was followed by a 15-yard touchdown pass from Luster to Khali Best.
McKinney took their first lead of the game, going up 14-10. A run by Kayvion Sibley put Allen in McKinney's territory, however the offense stalled. Facing a 3rd and 10, quarterback Michael Hawkins forced four missed tackles on a 26-yard run to set up Allen at McKinney's 18. A good catch and run by Messiah Washington put Allen within striking distance before a false start pushed them back. 
Michael Hawkins scored on a keeper, but was called back for an offensive holding. Allen got in the end zone after a 16-yard touchdown to Kayvion Sibley on a screen pass. Allen's 17-14 lead didn't last long, as McKinney's second play from scrimmage was a 75-yard touchdown reception for Khali Best, his second of the quarter. Allen wasn't able to respond, with its first three and out since their drive. The punt pinned McKinney inside their own 20. McKinney got a first down, but after that gained only two yards, forcing a punt. 
The third quarter ended with McKinney sporting a 21-17 lead.
The fourth quarter started with a field position-shifting run by Kayvion Sibley, running 52 yards and putting Allen at McKinney's 20. 
The offense started to slow, setting up a key 4th and 1 at McKinney's 12. Sibley carried the ball for four yards and converted. 
On his ensuing carry, he rushed eight yards for his third touchdown of the game. 
Allen took a 24-21 lead. McKinney once again started their possession with a gain from scrimmage, this time completing a long pass 68 yards which was only stopped by a shoestring tackle. On 3rd down, Keldric Luster rolled out to his right and scored to give McKinney the lead once again, 28-24.
Allen was once again forced to put the game in the hands of a 4th down and short. Allen converted, on a 3-yard carry by Michael Hawkins. 
On the next play, Hawkins hit receiver Davon Mitchell on a 26-yard score, giving Allen a tight 31-28 lead with roughly four minutes left in the game.
McKinney's Keldric Luster scrambled for 20 on a 3rd and 8, and a run by Bryan Jackson put McKinney in field goal range. Three straight defensive stops put McKinney in a 4th and 8, which they were unsuccessful in. 
Allen burned the clock after the turnover on downs and came out on top.
Allen moved to 6-1 on the season and 4-0 in district games. Next Thursday they will face Guyer on the road. As for McKinney, they moved to 5-2 and 3-1 in district games. They'll face Rock Hill next Friday.
Leave a Comment
About the Writer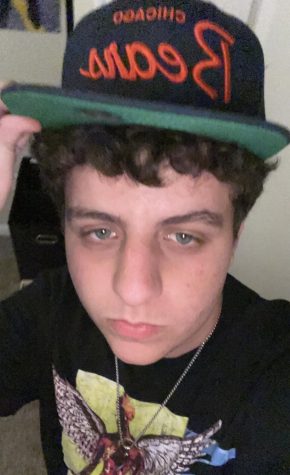 Joshua Moro, Senior Managing Editor
"In my free time, I enjoy writing, playing video games, watching sports, and listening to music. I chose to be on the newspaper team because of my love...