Phoenix Con
One of the biggest components of the Allen Gifted and Talented program is the annually held Phoenix Con. The program is a daylong event exclusively for all of Allen and Lowery's Phoenix students.
"Phoenix Con is an immersive learning experience," AP Phoenix IV teacher Katelyn Reed said. "[Gifted and talented students] create a near professional-level experience for younger students."
On the first Saturday after spring break, freshmen and sophomores rotate through stations planned by juniors and seniors. The upperclassmen work on the stations for two months prior to the event under the leadership of the Phoenix Con council.
"There's a Phoenix Council, two people from each Phoenix class, juniors and seniors, are going to go in this council after getting elected and from there they're going to choose a theme," senior Giana Abraham said.
This theme varies from things like dreams to the human experience, allowing students to experience very different stations each year. The themes not only provide a fun experience but also allow students to think creatively and design special activities.
"[Phoenix Con gives] people a chance to express themselves," Abraham said. "That's kind of what the whole program is about, to allow others to show what they are capable of and also give them an outlet for what they can actually do."
With COVID-19 last year Phoenix Con was online, and the year before canceled entirely. Never having done the program online, there was a significant learning curve.
"There was a lot we thought we planned for, and there were things we just couldn't anticipate," Reed said. "I would say the ultimate take away from last year is how resilient, creative and inspiring Phoenix students are."
After two abnormal years of Phoenix Con, there are still struggles with the upcoming program.
"The challenge is that they have never led an in-person Phoenix Con," Reed said. "Typically seniors would have attended or been participants at a freshman level and at a sophomore level and then would have had a year of experience leading it."
Regardless, both Abraham and Reed have hope for a good in-person Phoenix Con experience. They are excited about the prospect of making a physically interactive experience for the first time since 2019.
"We have a really good Phoenix Council," Reed said. "They're doing a great job already and I'm excited to see how they carry this to the finish line."
Leave a Comment
About the Contributor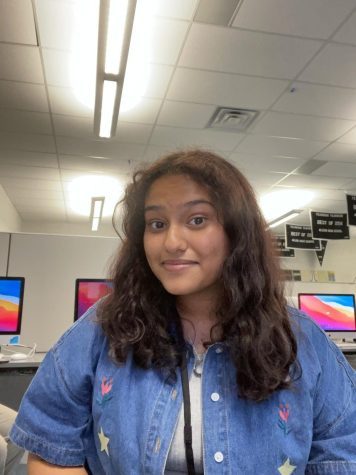 Srinidhi Jagadeesh, Co-Editor-in-chief
"I really enjoy interacting with different people for interviews and being able to tell stories in a public setting. I hope to be able to encourage our...