Lady Eagles Mid-Season Review
The Allen High School Lady Eagle Basketball Team, coached by Teresa Durham, won against the Prosper Eagles 48-38 in their game Jan. 14
Durham has coached the Lady Eagles for six years, and is currently in her 32nd year of coaching overall.
"I've always been involved in athletics, and I love competing and playing and winning games," Durham said. "So I guess at an early age that was my passion and as I got older, I still loved and enjoyed sports and playing in college. So it was just the logical step to get to be around something I liked and enjoyed."
However, Durham doesn't coach the Lady Eagles alone, as she also has varsity assistant Coach Gary Trombley and student leaders Alexis Cortez, Raimi McCrary and Maria Dicenta.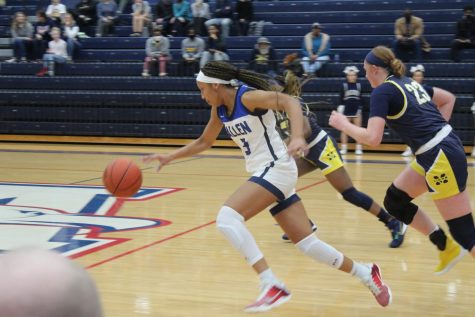 "I just love seeing us compete and win, and I want to elevate my teammates and make them better," senior leader Maria Dicenta said. 
Basketball leaders help coaches with team bonding and can motivate the team on the court. 
"Sometimes we try to get some team bonding in like team dinners before a game," junior leader Raimi McCrary said.
The team has a year-round schedule, with practices, schedules and games all being incredibly structured. 
"We train year round, in our off-season we lift three days a week and we do a lot of conditioning so that base of fitness and conditioning is a non-negotiable so we lift even during in-season," Durham said. "Our practice routines are very similar everyday: practice starts at 7 [a.m.], they do their warmups, and the first part of practice is always fundamentals, and then we follow that by team play, and games are on Tuesdays and Fridays."
Although the whole team puts in the work, some put aside extra time to do extra work outside of practice.
"I practice in the morning and right after school at 1:30 [p.m.] I go workout. So I'd say like 25 hours a week," Dicenta said.
This practice pays off in games and drives the team's competitive spirit.
"It went well, we were able to play some good defense, get some steals, run up the court," Dicenta said about the Rockwall game Dec. 7.
The competitive spirit is a shared feeling amongst the team.
"My favorite thing about competing is you never know what you're gonna expect, it's kind of like a new challenge," McCrary said. "Of course if it's too hard, it's hard, but I like a challenge because you have to work for it, you can't just sit on your butt and have it come to you."
The Lady Eagles currently have an 18-11 record overall, coming off a loss against the Braswell High School Bengals Jan. 14.
"I love [competing] because you can see how good you can be. It's challenging yourself against the best person across from you and who's gonna win," Durham said. "I think there's always that desire to be better everyday, waking up and [thinking] 'can I be better today than yesterday?' I think that's why you compete in everything you do."
Leave a Comment
About the Contributor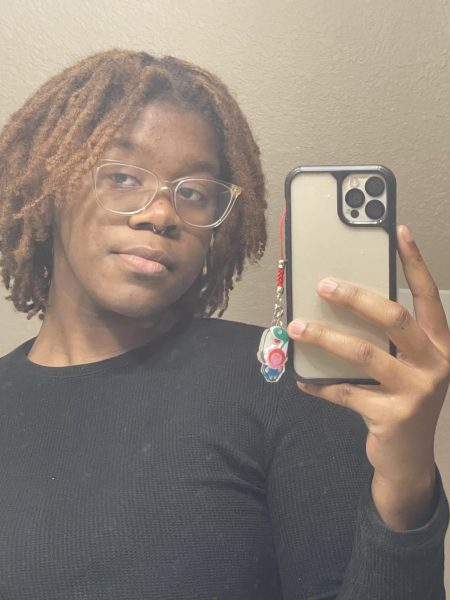 Kie Binion, Editor-In-Chief
"This year marks my sixth year of journalism and I'm absolutely ecstatic to be EIC this year. I love seeing the staff become more confident as both writers...