Allen Eagle Escadrille at UIL Area Contest
The Allen Eagle Escadrille traveled to Mesquite Oct. 30 to compete in the UIL Area Marching contest. The results of this contest would determine who would move on to the state competition.
After preparing for months, and practicing many hours a week, the time finally arrived for the escadrille to put all that work and effort into action. With a call time of 6 a.m., the group was ready to perform. The first half of the competition started with the preliminary rounds to determine who would move on to finals. After performing at 10:30 a.m. for the first round, and taking a much deserved rest, the results arrived — out of the 28 bands performing, only the top 10 moved on to finals, and the band's practice and effort was rewarded when they made ninth place in prelims.
"I couldn't be happier that we made finals. You know this band, in the past like 20 years, has only performed at finals twice," band director Dr. Philip Obado said.
When it was time for their final performance, the band went in with only one goal in mind, to perform their show to the very best of their abilities, and they came out with high hopes. After watching the other bands perform, the results — which would determine whether or not they would get the opportunity to perform at state — were in.
But despite all their effort and hard work, the band made 10th place and was unable to move on to state. While many members of the band were dejected that they were unable to make state, they were still happy with their performances and gratified that they even had the chance to perform at the area contest. 
"It made me just so happy that we even just made finals, like it didn't even have to go to the State level," senior drum major Melanie Schwartz said. 
Despite this year being her last year to be able to go to state with the Allen Eagle marching band, she said she didn't regret one moment.
"The state experience would have been cool, but I'm just so satisfied that we even got that experience of even making finals and coming home at 1 a.m. in the morning, like exhausted. Like that to me was so fun, and it was just so surreal. It was a whole experience," Schwartz said.
What is possibly most surprising is that this year was the first time in four years that the band made it to the area finals, and they earned 10th place in spite of the lack of experience. According to Obado, their finals performance was the best one yet.
"I think the band grew up, a lot, in just those two hours between prelims and finals, and finals was a better band. It was a different band, a much more mature band than it was at 10:30 in the morning," stated Obado. 
While many were sad, and maybe even upset that they didn't move on to state, everybody was proud of what they accomplished — the time and effort that they put it, the sacrifices they have made, and the tears they have shed. 
"We should be proud of this. It's not like people are like 'oh, we feel bad for Allen, so we're gonna get you in, "Obado said. The escadrille has almost 800 members, which no other band has. It's difficult to get that many people to do the exact same thing, and other bands know this.
"No, we earned it. And are compared highly to the Flower Mounds, to the Hebrons, the Marcuses, the people that everybody knows that they're amazing groups. We're a part of the same thing," Obado said.
According to Obado, getting grouped together with those large, well known bands is a great achievement; to be considered on the same level as them as inexperienced as the Allen escadrille is an amazing feat.
"I know 10th is like 'oh, you got 10th', but just to be 10th, there are people that would've done anything to be in our situation, to be just 10th,"  Obado said.
Leave a Comment
About the Contributor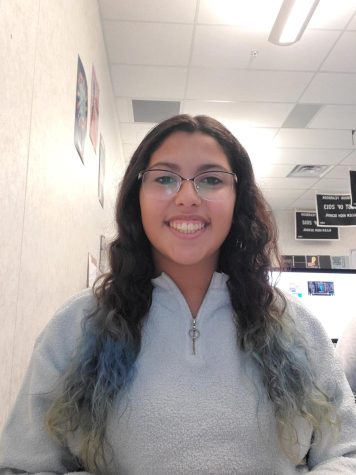 Haley Rodriguez, Co-Editor-in-Chief
"I love to read and write. I joined the newspaper team because I love writing and the satisfaction of producing a good story. I chose to be an editor because...