You'll Always Find A Way Back Home
Head Coach Kelly Thompson is on her fourth season of coaching girls' soccer, but has been connected to Allen far longer than that. Thompson is an Allen alumna, who returned to coach varsity girls' soccer here after former Head Coach Kevin Albury stepped down. Returning to her roots, Thompson has already and plans to continue making a huge impact on players and students here at Allen.
"I loved being a student here at Allen. When I went off to different schools to teach, nothing else compared and I knew I always wanted to be able to come back, so it's really special that I got to," Thompson said.
Although Thompson hasn't been coaching at Allen for very long, the impact she's made on the program will be remembered for years to come. Most recently she was inducted into the Allen Hall of Honor. This was after she was able to lead her team to the 6A state semifinals after 21 years of not having a single state appearance, on her first year as a coach at Allen. 
"We still haven't had that state championship for girls' soccer, and that was something we were so close to when I was a player here. My first year back here, we came really close, so for me it's always in the back of my head. If we can win that state championship for the girls soccer program here, it would not only be for the players I've gotten to coach, but also the players I played with. It would mean a lot to a lot of people, especially me too. I think that's one of the main motivators for why I came back here," Thompson said.
While on the field she is all business, Thompson is also a classroom teacher who loves to work with kids.
"I didn't know I wanted to teach and coach until college, while getting to work with young girls. They came out to our games and we got to do different practices and things with them, so that's when I realized I really enjoyed that side of things. That's when I went and looked into how to be a high school coach. I knew I always wanted to do high school. I knew club wasn't really for me," Thompson said."Playing for your school and having that pride in your school was really the biggest part for me, and then I got to figure out how to be a teacher and a coach, and it all worked out from there."
Thompson coaches all four high school grade levels, and manages to help all of them in her own unique and effective way. 
"She's very passionate about what she does," sophomore Kenzie Arroyo said. "She's very motivating and you can tell she cares about every one of her players." 
While her exterior on the field is serious and focused, on the inside she's pulling for every one of her players to succeed in every way possible.
"She wants all of us to succeed, and she pushes us to do so every day,"  sophomore Samantha Sheffield said. "She can be tough at times, but it comes from a place of love."
Thompson continues to inspire and push her players and students in every way to help them be the best versions of themselves.
"You're around some of the greatest people, you're at the best school that there is, and you have so many opportunities at your fingertips," Thompson said. "Use those and embrace them, and enjoy every moment." 
View Comments(1)
About the Contributor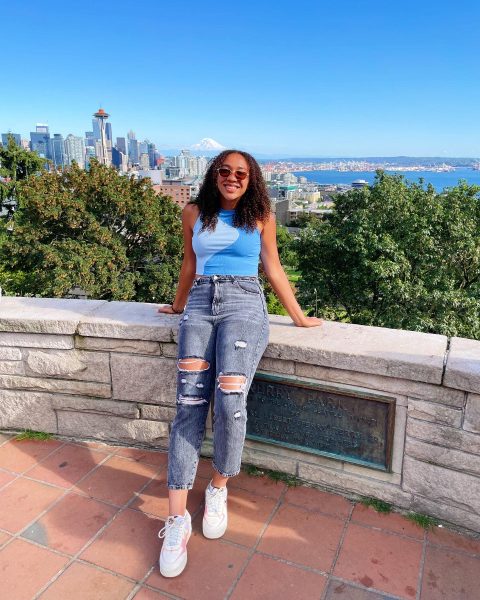 Sydney Williams, Online/Social Media Editor
"I am an avid reader and love being on the news staff. I'm also a soccer player and play for DKSC and Allen. I'm super excited for this year."