The Hidden Treasure in Treasure Island
The lights dim in the theater and murmurs hush in the crowd. A spotlight finds its place on the stage, highlighting Elise Bernhard, who is playing Older Jim in the AHS Theater production of "Treasure Island." The show is about to begin.
The cast and crew captivated the audience in their production of "Treasure Island". Actors drew the audience into the story, bringing out intense scenes and light-hearted giggles, and the crew played a large role in cultivating the impact on the audience.
"Well I've done, I think, probably over 15 shows in my life. And honestly, none of them compare to Allen High School shows because the production value is just so amazing," said senior Atlas Morgan, who played Ben Gunn. "The set is fantastic, the lighting, sound, the props, the costumes, everything was just brilliant. The crew is so elevated here."
The premier night of the show was special for the cast and crew, and the audience felt the emotional atmosphere filling the auditorium. It was a return to normal after COVID, allowing the cast and crew to continue important traditions.
"We actually didn't get to do any traditions for two years because of COVID, but today we got to bring back one of our favorite ones," said Stori James, who played Long John Silver. "We cross our arms, and we tell each other good show, and we spread the love by squeezing each other's hands and then we spin out of the circle, and it was just so great to do after two years. It was just amazing."
Highlights of the show included Squire's intense banter with the other characters, Long John Silver's manipulation of the pirate crew to their favor, and Ben Gunn's monologue, among many other scenes. Every actor worked hard under the guidance of Renee Harris, the director, to explore their characters.
"I think one of my favorite parts, while like in the moment it's a little stressful, is getting notes, because that's just a way to approach things differently," said Avery Murphy, who played Squire. "Whenever I'm given those notes I can just try something a million different ways and see whatever fits best."
The positive attitude carried by the cast and crew was infectious to members of the audience. It was clear the cast and crew were close with one another. Despite the limited time to prepare the production, "Treasure Island" ran smoothly and the entire team did a wonderful job at conveying the story.
"This is the first show that I've done since COVID, like an actual show, and it's the best possible way I could get back into it." Morgan said.
Leave a Comment
About the Contributor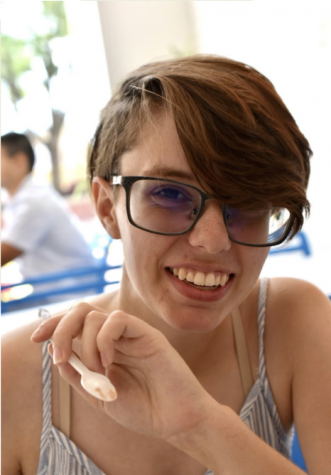 Paige James, Social Media and Website Manager
Paige James loves to read, write, and is passionate about listening to and playing music. She wants to major in Communications and Media in college.