Self-Confidence
In a society whose foundation is built on high standards, students in Allen navigate self-confidence through their high school years surrounded by seemingly perfect people on social media competing over who can promise a better body, a better face, or better way to self love.
"I would say that social media corrupted people to compete against other people in terms of appearances," senior Bryan Chen said. "You always want to one-up each other because your whole social life is around getting likes and stuff and getting comments."
However, despite the abundance of people of all shapes and sizes and positive talk on self-love, students still face disparaging comments from their own classmates and friends more frequently than one would think. Comments often range from seemingly harmless jokes to pointed comments based on the student's appearance. These remarks hinder self-confidence, boosting insecurity.
"It's happened a lot of times, and typically you just use humor as a defense mechanism where you just try to laugh at it," Chen said. "But what will happen is that you'll take the force from the original joke and make a joke about yourself in order to make it look like you're fine with it, but in reality it just invites the [jokes] more and more."
Despite these obstacles, these students have found aspects of themselves that they genuinely appreciate, love, and can be happy about. 
"I love my hair because I have really good hair, it's nice and thick, it's blond, it has natural highlights," senior Courtney Brown said. 
"I like that I'm tall, that's pretty cool, I like that I'm Asian, that's pretty sick," Chen said.
Chen stated that after working on himself and losing weight, both he and others around him are proud of the physical gains he's made on his own terms. However, the journey to find his self-confidence was indeed a hard one.
"I was 50 pounds heavier throughout high school, that has just been a big thing in my head and it was definitely rough some days," Chen said. "I would say 100% appearances have definitely been something to think about, I lost a lot of weight from running and stuff and people have been commenting that you look better, and it feels good to hear it."
Changing yourself isn't the only thing that leads to self-confidence, sometimes self-confidence is accepting and being content with yourself. Brown said she believed that self reflection was one of the things that led her to have self-confidence and that important things like this take time, and that not every day is going to be perfect. She knew that not every day would be one of pure content, but that it's important to work on it and appreciate yourself.
"I am happier with myself when I weighed less, but I feel like I am more at peace now," Brown said. "For the past few years I dwelled on how I look less so I'm more at peace with it, but it is something that bothers me. I am at peace with how I look like generally perceived to others.
Leave a Comment
About the Contributor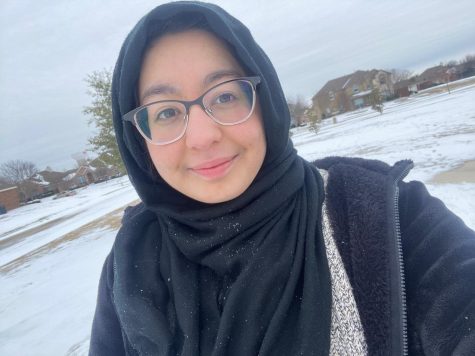 Sidrah Khan, Staffer
Sidrah loves to crochet in her free time and has a passion for ceramics!