Dreams Coming True
We all have dreams that we hope or wish to achieve. Everyone does, whether you are a high schooler or a 47-year-old man. We all have dreams. The difference is, three AHS students are making their dreams come true. 
Tenth graders Will Valleau, Jude Lambert and Zeke Hales followed their dreams and made a band together, "Rose Pink."
"We all like the same music and we just all had the same common interests," Valleau said. "And we thought that putting our musical talents with each other would just be right."
With Valleau as the guitarist, Hales as the singer and bassist, and Hambert as the drummer, they really are the perfect fit, and they have big dreams for this band.
"I would like to do this for a living, in a heartbeat," Valleau said.
With this band, the three said they are really hoping to reach people and help them through rough times with their music.
"I've always been interested in music. A few years ago I felt really depressed all the time," Hales said. "I would use music to distract myself from it, I want to help people that are going through the same stuff as me."
Not only will they bring other people together, but they have also done the same for each other. Valleau said that the "family" they have built is his favorite thing about the band.At first it was hard for Valleau and Hales because they had to find another member. 
"Zeke was going to play drums and sing, and that is really hard, and so I said that I would do it and I think that was a good idea," Lambert said. 
But now they are already in the process of writing and producing songs. 
"I am hoping that we will have a fine song extended play album out sometime this winter," Hales said. 
They are going to be putting the song on as many platforms as possible, such asYoutube, Apple Music, Spotify, and more.
"In order to be in a band, you have to have a mutual understanding so that you can work together," Valleau said. 
The band mates agreed they really think they found that "mutual understanding" and are ready to create music together.
"Music is like a universal language, it doesn't matter what the lyrics are, it's like everyone understands the beat, everyone understands the rhythm, everyone understands the same notes," Valleau said. "It's like the binding thing between everyone."
View Comments (1)
About the Contributor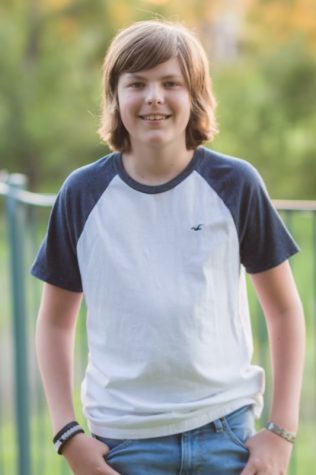 Brayson Jones, Staffer
Brayson loves to play drums and play guitar. He also plays videos games in his free time. Brayson hopes to go to University of Texas or University of Florida.