Arangetram: The Peak of A Dancer's Life
Two students at Allen High school, junior Jahnavi Maringanti and senior Devika Amalkar, have been eagerly awaiting their arangetram's arrival in September 2021. Their performance will be a Bharatanatyam dance, one of the oldest classical dance forms in Indian tradition.
"Bharatnatyam is all about depicting stories of the Hindu gods," Amalkar said. "Not just gods but also aspects of our culture."
An arangetram is a momentous occasion in an Indian classical dancer's life that illuminates their artistic culmination of an Indian classical dance form they've spent years training in. An arangetram's purpose is to both acknowledge the completion of a dancer's schooling years and the debut of their journey as an experienced dancer. 
"It's basically like graduation for dance where you invite all your friends and family to watch you perform on stage," Maringanti said. "After graduating, you are then eligible to begin your official career as a dancer."
The girls have been learning Bharatanatyam since they were kids and over the years this art form has allowed them to learn more about their culture and themselves.  
"While learning Bharatanatyam, you also learn about the different stories of the Hindu gods," Maringanti said. "We express these stories through our dances, so it allows me to display the history of the Hindu culture in a creative way."
Amalkar says that being born and brought up in America has made it difficult for her to fully experience her Indian heritage, however learning Bharatanatyam has helped her overcome that hindrance. 
"We don't get exposed to our culture as much as kids who are born and brought up in India do," Amalkar said. "So, Bharatanatyam has really connected me to my culture and my roots."
Even after several years of studying the cultural aspects and techniques in Bharatanatyam, the girls have had to dedicate an extra amount of time solely to prepare for their arangetram.
"Usually, you start learning the dances for your arangetram and preparing for it a year and a half in advance," Maringanti said. 
The rigorous preparation process is established to ensure that the dancers have enough stamina to perform for the entire duration of their arangetram, which is about an hour and a half.
"There are times where I've felt like giving up in the middle because of all the work that needs to be put in, but my passion for Bharatanatyam just kept me going," Amalkar said. 
The stress in the dancers' lives began to escalate even more once they realized they had to deal with the difficulties of the COVID-19 pandemic. 
"Last year we started preparing around May or June," Amalkar said. "That was when the pandemic started. So, we had to start doing classes on Zoom. That was not the best option because coordination is such a big factor when it comes to dancing and [Jahnavi and I] could not work on coordination over Zoom."
Maringanti and Amalkar's passion for Bharatanatyam has strengthened their motivation to overcome the difficulties thrown their way. Nervousness and excitement fill their minds as they get ready to showcase their talents on their big day. 
"It is coming up in a couple of weeks, and there are still a lot of arrangements that need to be made, but I am ready," Maringanti said. 
View Comments (2)
About the Contributor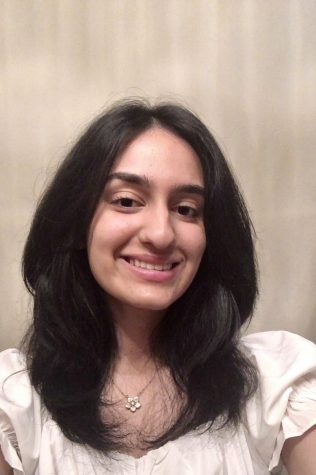 Sia Gosain, Social Media Editor
"My free time is spent watching The Office, playing with my dog, or working out at the gym. As the social media editor, I want to bring more awareness...