Installing Art and Connections
Walk the halls of Allen High School enough and soon the empty sections of the walls will become noticeable. A recent student poll showed that 97 percent believe there should be more art throughout the school. Luckily, several student artists plan to do just that. 
Junior Grace Swenson, president of National Art Honor Society and self-taught artist, took advantage of the Hershey's Heartwarming Project grant she won to connect people across grades and art levels with "candid" murals. 
"I wanted to do a mural because no one was talking, especially last year because of the masks, the hallways were significantly quieter and no one was really socializing and making friends," Swenson said. 
What was previously a grey space became livelier with painted flowers. The test piece upstairs between F and G hall not only had the effect of bringing necessary color, but allowed for the artists to express themselves in a collaborative way. 
"I don't know who did [the other murals], but I immediately feel more connected to the school than I would have looking at a blank wall," Swenson said. 
With such an enormous student body, having more interactions or links with peers builds a more comfortable environment; one way to accomplish this is through art. Past campus projects like pom-pom installations were largely sponsored by NAHS but with the murals the goal is to reach a wider range of creators. 
"Obviously with the new mural that is coming up I want people who aren't just in NAHS, but outside in any art form or who's interested in painting to help me out with [the mural] to connect the student body," Swenson said. 
Junior Tiffany Yap, an artist who also worked on the flower mural, looks to continue bringing art to the campus by using her English class's independent study project as an opportunity to create trash installations. 
"I was hoping I could get the school to display them somewhere, I'd like to make it a thing that other schools could do because collecting trash promotes a cleaner community," Yap said. 
New artwork often generates a response, and with the mural there was mostly praise. 
"Even through Instagram [students are] like that's so cool, the school used to be so daunting and now it's more welcoming with color," Swenson said. 
Having a campus that is visually interesting is something both Swenson and Yap find important and that can have a rewarding effect on those who design or simply view. 
"Art has an impact on the mind and can create a more positive vibe and uplift people's mood in general," Yap said. 
Swenson had advice for those who want to pursue art for the campus.
 "If you have an idea, then just pitch it to me or Ms. Arago, because no idea is a bad idea, especially when it comes to making the school more colorful and aesthetically pleasing," Swenson said.
Leave a Comment
About the Contributor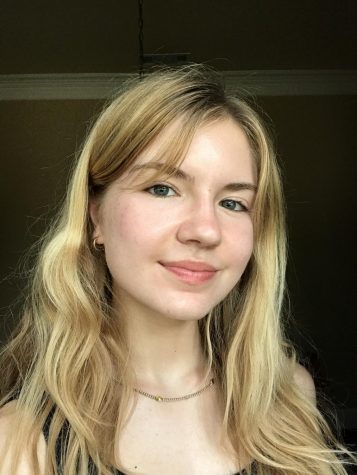 Brianna Juric, Feature Editor
"I enjoy ballet, reading and finding great music. I want to have a career in medicine and travel everywhere. I hope that by being on the newspaper team...