Leading School Spirit
The student section plays an integral role in school spirit during games, led by 12 student section leaders chosen to help organize the student section in chants, themes and more. During games and pep rallies, the student section leaders play an integral part in raising school spirit in the student section.
"I'm one of the 12 student section leaders, it's our role to hype up everybody, get everybody involved, make sure everybody is spirited," senior Aleigh Wieder said. "Walker's really big on involving the entire student section, and not just the 12 of us because he wants to get it bigger and bigger and bigger every year."
Weider referred to JD Walker, coordinator of student leadership and engagement for Allen High School, and it is the student section leaders who create a cohesive environment. They think about how to best raise participation in students, including planning fun events for the student section, such as themes to dress up to during games and organizing activities at pep rallies. 
"Well, first of all, the 12 leaders are wearing overalls this year; we're wearing overalls so everyone can see who the student section leaders are, every single game," Wieder said. "We have every game and every pep rally planned out right now. We kind of have a general idea of where we want to go with things and how involved we want to get people."
The student section leaders are focusing on creating a positive environment and including all different grades in raising school spirit during football games. Plans to create and focus more on positive chants while reaching out to invite everyone in the student body to participate are already well on their way.
"I want to focus on everybody, so I'm going to be getting my exercise in, running up and down the stairs, telling everybody 'get up, be loud'," senior Joe Martinez said. "The past couple of years, the chants that we do are just like bashing the other team. So this year, we want some more positive chants for our team." 
For the majority of students who aren't student section leaders, the best way to participate and support the student section's goal to create more school spirit is to go to the games, follow dress-up themes, and participate in chants. 
"You just need to be loud, you need to come prepared to help," Wieder said. "You need to come prepared to make noise, you can't just stand there. Dressing up with all the themes is important. Learning the chants like, when we yell, to follow along." 
To learn more about the student section and stay updated on future and current plans, student section leaders advise following the student section's social media accounts and keeping an eye out for posters in the hallways of the high school. Student section leaders encourage everyone to come and have fun.
"It's really awesome and I think everyone should participate as much as they can. You only have one chance to go through high school, you know — Make it count." Wieder said.
View Comments (3)
About the Contributor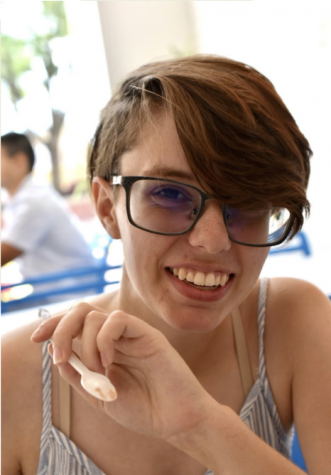 Paige James, Social Media and Website Manager
Paige James loves to read, write, and is passionate about listening to and playing music. She wants to major in Communications and Media in college.