Iconic R&B
Music has made a significant impact on our society. One can stimulate their mind, connect to the words, and feel the rhythm in an artist's creation. R&B is the perfect example of impactful music. It captured the rhythmic elements of funk and disco, along with the use of synthesizers, drum machines, sound effects, and rap music sensibility. However, in more recent years people have prioritized sales over genuine artistry.
Old school artists like Erikah Badu, D'Angelo and Tupac contributed to the music industry with unique sounds, and style that resonated with their audience and allowed them to become some of the most notable people in their fields. Now, most songs are radio songs, and they all sound very similar, if not the same. A catchy beat, average vocals, and words that most people don't listen to.
Radios are forced to play the same songs over and over again because they are the most popular, and as a direct result there's not a lot of variety. This method of music production commercializes the most generic sounds that have already proven to be enjoyable and has drawn artists and publishers away from putting out more complex music that the public might like as well.
Fortunately, there are still musicians who put their heart and soul into their music, and more popping up. According to Global Music Rights, Bruno Mars has sold more than 180 million records worldwide. This makes him one of the best-selling music artists of all time with his wide range of musical styles, some heavily influenced by the 70s. H.E.R also provides a neon-hazed, synthesized romance that is special to her brand.
Two artists who represent how the radio avoids playing more complex music are Chloe x Halle and NAO. Chloe x Halle is an R&B duo composed of sisters Chloe and Halle Bailey who were discovered and signed by Beyoncé. Chloe x Halle write and arrange all of their songs in their home studio. They are also self-taught musicians and have stated that they like to make music with more interesting sounds and nuances. 
Although they are prominent, in an interview with The Guardian the duo has said "people said our music was too complex for the average ear." The pair consistently present involved music videos, high fashion, and of course, extraordinary music. Billie Holiday, Sara Vaughn, Michael Jackson, and Whitney Houston are some artists they've said have inspired them. Their album, "Ungodly Hour", is a masterpiece of modern R&B. It explores several things to showcase their maturity and showcases different styles and beats while seamlessly mixing them together. Not to mention they are delivered with vocals felt through the speakers.
Some Allen High School students expressed that Chloe x Halle's music had an old school feel to it. 
"Their range was pretty large," senior Victoria McSpadden said. "With a lot of pop songs you hear on the radio, it just seems they sound the exact same, they have the exact same style. And with their music it was a whole lot of variety." 
One student expressed "[she] went through some stuff three years ago and one of the songs made [her] feel the same way and [she] just feels like it just helped a little."
With these thoughtful songs, one would think that more of their songs would be played more often, yet the only song of theirs that's on the radio is "Do it". While this song displays beautiful harmonies, it is also one of the most average on the album.
NAO is even more unknown. Neo Jessica Joshua, better known as NAO, is an English singer-songwriter and record producer from East London. Her sound has been described as soul combined with electronic music, funk and R&B. Nao coined the term "wonky funk" to describe her style. She studied vocal jazz and is a master of tone and control, acrobatically landing every note of her range, from a blown-glass falsetto down to her sonorous lower register.
NAO's music could be described as easy listening. She has said that she would like to take her audience on a journey, and I would have to agree. Her high voice and distinct melodies and beats bring a sort of trance. There's no need to think as it allows you to just lay back and immerse yourself in the sound. 
"I feel like she's trying to make people feel good, like feel good music. It's something, like if you're having a really bad day and you can listen to her music and you know that things are gonna be okay. It's just music to feel in your soul," junior Emma Gonzales said.
NAO has also taken inspiration from some old school artists and it definitely reflects in her music. 
"It definitely does have that Prince vibe to it with the whole guitar thing. It all sounds different but it's very good too," senior Valencia Powell said, "that one [Saturn] reminded me of Janet Jackson."
"She has a unique sound. You know it's not the same. Of course she's a singer so she's going to have to vocalize her voice and make sure that her voice is heard, but she knows how to switch it up when it comes to different kinds of beats. You hear music nowadays and it does sound very, very similar, but I can tell that she takes the time to understand what she's producing and what beat that she's making, so it's like every minute that she's on the track, it's just, it's laid out," Powell said.
That kind of style doesn't expire because it's all about writing something unique to you that you wanna put out into the world. 
"When you classify music, it becomes a fad, which tends to go away," NAO said. 
That's what is happening in this generation of music. A lot of artists are too focused on what the public wants to hear instead of what they can give the public. By being unique to yourself, the music industry could grow much more and connect to more people in a way that counts. 
"It definitely opened my mind a lot more," Powell said.
Leave a Comment
About the Writer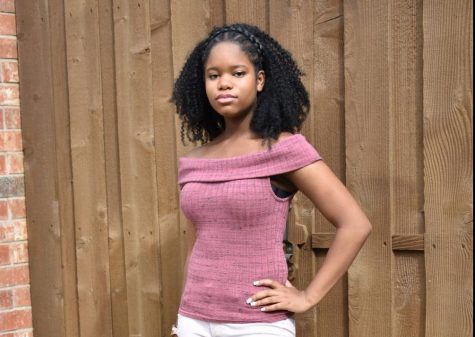 Kennedy Jackson, Editor-in-Chief
Senior Kennedy Jackson, or KJ, cares deeply about community and black pride. She uses her free time for writing, photography, and reading & watching...