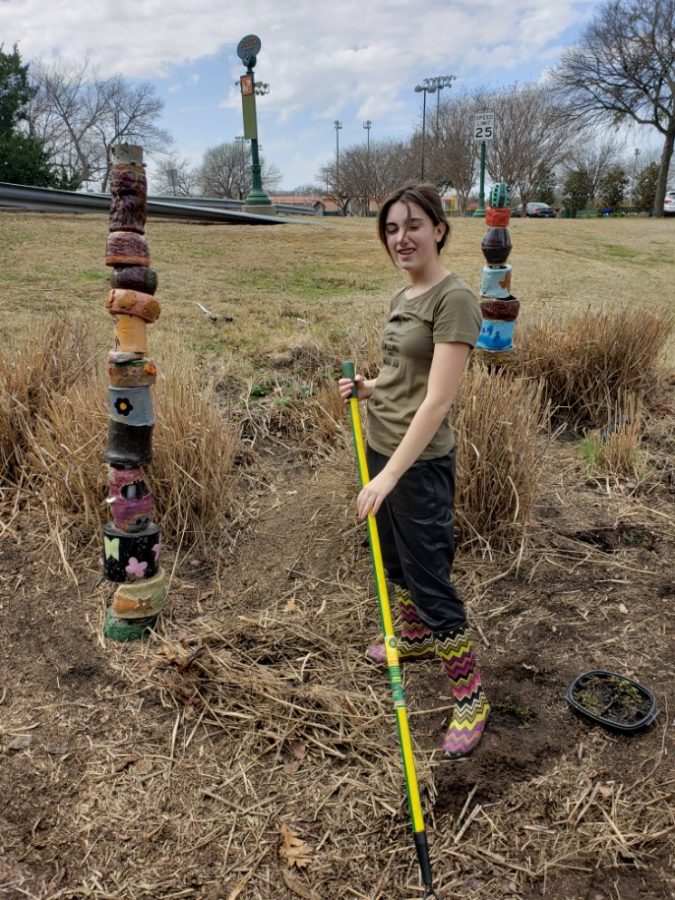 One of the student organizations that continues to fully function at Allen High School despite the COVID-19 pandemic is the Environmental Club. The primary project of the club this year is the rain garden, which is located by Allen Station Park. Senior Avery Van Scoy is the president of the club, and has been ensuring the club's operation with senior Meghan Holloran, the Vice President.
"A few years ago, [the Environmental Club] received a grant for some land for the rain garden," Van Scoy said. "For many years, no one was caring for it and a lot of the members wanted to refurbish it, so we've been working on that throughout the year."
According to sophomore Larkin Riddle, the Environmental Club has faced some difficulty with running the club traditionally, but have continued meeting on a regular basis, all while following CDC guidelines to stay safe. 
"A big part of Environmentalism is sharing and reusing things," Riddle said. "Last year, [The Environmental Club] got together to make tote bags out of old t-shirts. To really teach someone how to use a sewing machine, you have to take their hands and show them how to hold it, which is an issue now. I think that the rain garden is a really good project for us to work on, because it's basically free reign, and if you wanna go and check on the rain garden while on campus, you can do that."
The purpose of the rain garden is to retain and filter runoff water from sports fields that are located at Allen Station Park, so that river water can be better purified. The garden needs specific plants to filter and to keep the dirt together, and luckily, The Connemara Conservancy has lent the club tools as needed. E-Club's current plan is to remove remaining switchgrass and transplant healthier, more water/drought tolerant plants. 
"It's a big undertaking, but the goal is to finish [the rain garden] by the end of the 2020-2021 school year," Van Scoy said. "I hope that we can encourage the students at Allen High School to be more environmentally conscious by leaving the rain garden in better shape than we found it." 
The Environmental Club has only a few active members, and are seeking to encourage students to be considerate about the environment, whether they join the club or not. One way students can easily contribute is by attending the creek cleanup at the end of March, or being more mindful about where they throw away their trash. 
"The tiny black trash basket compared to the bright green recycling bin makes it easy for students to think, 'Oh, I have trash, there's the larger receptacle,'" Riddle said. "If there is one piece of trash in a bin of recycling, it can't be recycled. People should join [the Environmental Club] in particular because it's a good way to absorb information about how to protect the environment, and meet some really nice people."
The Environmental Club meets every first and third Wednesday of the month @ 4:30 p.m. Their remind is @theenviron