Spring 2021 Track Preview
Like every other athletic organization, AHS track has gone through challenges amidst the pandemic. However even with an abbreviated schedule, there are high hopes for good performance this upcoming season, with a few runners expected to shine.
Last year, the 2020 spring season ended abruptly, though up until the spring break that never ended, the track team was doing well.
"We started our season off, we went to De Soto and ran, and we were doing pretty well," head coach Jon Cockroft said. 
The team also won the next meet hosted at Allen, and performed well at Lancaster. However, this was the last meet they were able to run before spring break.
"We go into spring break, and just like everybody else, they came out and announced that we have an extra week off; and then it just kept extending," Cockroft said.
The COVID-19 pandemic had just gained traction in the United States. Little did Cockroft and the team know, they would not be returning to the track that season.
"I hated it for the seniors, because we had a pretty good team, and we had a lot of returning seniors that I thought could've gone and performed pretty well," Cockroft said.
However even though their time running for Allen is over, Class of 2020 seniors like Dakota Jackson have continued to run track in college. Jackson currently runs for Boston University. And thus, with 2020 behind us now, focus is turned to the upcoming spring 2021 season.
"Our general goals are to perform well as a team," Cockroft said. "That's the great thing about track: it's individual because you're running and trying to better your times, but the team aspect of it, of doing your part to carry on the team."
While emphasizing the team-oriented approach, a few individuals to keep an eye on this season are CJ Ekeanyanwu and Tsegaya Fazarro in the men's 200-yard and men's 400-yard, Evan Carter in the men's 100-yard and men's 200-yard, and Drew Linscott in the men's 800-yard. However even with these high hopes, there are also some expected challenges.
"The immediate challenge is the weather. Because it was so cold, we're trying to find ways to get workouts in. The real challenge is working relays, especially when you can't get outside and work them," Cockroft said. 
However, the cold weather was a surface-level issue. Another challenge was the restrictions put into place as a result of the pandemic that have caused a shortened schedule.
"I think we have five meets on the schedule before District, which typically you're running seven or eight before that District meet, so it'll be fast and furious," Cockroft said. 
District will come up faster than in a normal year. However, Cockroft emphasized that they were just happy they would be able to run at all. 
"We're looking forward to it, and looking forward to the opportunity to compete," Cockroft said.
Leave a Comment
About the Contributor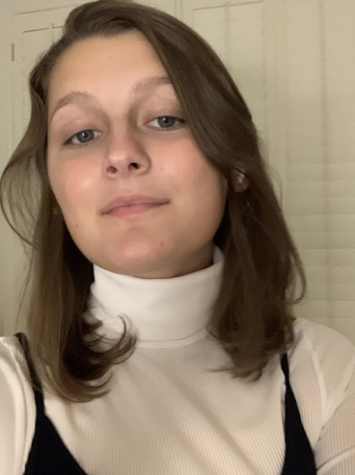 Lillian Arnold, Editor-in-Chief
Lilly's interests include writing and watching movies! She loves to create stories and characters, and plans on majoring in English to become a teacher,...