Movie Therapy
Students choose their favorite comfort movie or TV show
A comfort movie or a comfort TV show is, quite simply, something you can watch to make you feel warm and fuzzy inside, even on a rainy day. It can look different for everyone, but often feelings of nostalgia and familiarity qualify a movie or show as a comfort. Whether it's a comedy to make you laugh even if you're having the worst week, or a Disney classic to bring back all those childhood memories, comfort movies can be diverse and have special meaning to the ones holding them near and dear to their hearts.
Here are just a few of the answers your peers here at Allen gave when asked about their comfort movies.
#1: "Sky High" (2005)
It's a bird! It's a plane! It's… a high school student? "Sky High" is a classic 2005 film fitting all three genres of family, comedy, and action. Set in a world where superheroes are commonplace, we are introduced to many characters with superpowers as unique as their personalities. They must navigate through a high school environment, sometimes hitting a little too close to home, (besides the fact that their school is in the sky), and at the same time learn how to be a superhero. 
"Childhood nostalgia, I guess," junior Lauryn Bender, who chose "Sky High" as her comfort movie, said. "It brings one back to happier times."
Fun Fact—the writers of "Sky High," Mark McCorkle and Bob Schooley also created the popular kid's TV show "Kim Possible"!
#2: "Agents of Shield" (2013-2020)
A popular spin-off of the Marvel Cinematic Universe, "Agents of Shield" is beloved by many MCU fans. It follows the worldwide law-enforcement organization known as S.H.I.E.L.D. as its agents tackle threats to humanity and investigate strange occurrences around the globe.
"I absolutely love this show because the characters are very complex and different from one another, and I can sometimes relate to what they are going through," sophomore Anjali Banker, who chose "Agents of Shield" as her comfort show, said. "The characters feel so familiar, like I know them in real life, so it's kind of like a fictional family."
Fun Fact–S.H.I.E.L.D. stands for Strategic Homeland Intervention, Enforcement and Logistics Division. When originally created for the comic book in 1965, it stood for Supreme Headquarters, International Espionage, Law-Enforcement Division.
#3: "How To Train Your Dragon" (2010)
"How To Train Your Dragon" is a heartwarming story of a clumsy young Viking who dreams of hunting dragons, but befriends one instead. He finds they are not the malicious creatures those on the island of Berk believe they are, and as a result plots a new course for his people's future.
Junior Mihir Junaghare chose "How To Train Your Dragon" as his comfort movie, relating the plot back to his own life. "It's very peaceful, and it's about this guy who finds comfort in a pet," Junagahre said. "It was around the time I got my cat, and the dragon kind of reminds me of my cat."
Fun Fact—while creating this movie, animators attended 'flight school' where they studied flight physics and movements of different creatures to make the flying of the dragons in the film look more realistic. 
#4: "Coco" (2017)
Another from Disney/Pixar, "Coco" is about a young aspiring musician named Miguel who, on his journey to achieve his dreams in spite of his family's ban on music, finds himself tangled up in the land of the dead. He meets charming trickster Héctor, and together they go on an adventure to unlock Miguel's true family history.
"I think it has a lot of nostalgia behind it, and I think it has a really good message," junior Carol Crawford, who chose "Coco" as her comfort movie, said. "And also, the animation is really pretty."
Fun Fact—In "Coco," anytime a character is playing the guitar, they are actually playing the right notes! Real musicians were recorded to ensure that the playing looked authentic.
#5: "Selena" (1997)
"Selena" is a biographical drama following the stardom of Selena Quintanilla-Pérez, a popstar from a Mexican-American family who was blooming with talent from a young age. The film explores her life and career as well as her journey in finding success before being tragically murdered.
"I relate to her a lot, and I look up to her in a lot of ways," junior Cynthia Trujillo, who chose this biodrama as her comfort movie, said.
Fun Fact–Jennifer Lopez plays Quintanilla in the film, and playing this role actually inspired Lopez herself to become a singer.
#6: "Friday" (1995) [R-Rated]
A comedy about all of the wacky happenings that fall upon Craig and Smokey, two best friends with seemingly incredible misfortune. The catch? Craig's unemployment, conflict with the local bully, and issues with a psychotic girlfriend all fall on one unforgettable Friday.
"I would say that Friday is my comfort movie," junior Zoria Jordan said. "It's really funny."
Fun Fact—the filming location of "Friday" was actually in the director's own childhood neighborhood, with many of the houses used for filming belonging to several of his real-life friends.
#7: "Spider-Man: Into The Spider-Verse" (2018)
A revamp of the beloved character of Spider-Man, however the man behind the mask is not Peter Parker, but Miles Morales. After a rift in reality causes multiple dimensions to leak into Miles', he must navigate his new abilities while saving the world with some other spider-friends.
Junior Dylan Carlquist called "Spiderman: Into The Spiderverse" his comfort movie. "The soundtrack and the animation is really good, and it has a good story," Carlquist said.
Fun Fact—Miles Morales' characterization actually came a lot from his voice actor's performance. Shameik Moore landed the role almost immediately after his phenomenal performance.
Leave a Comment
About the Contributor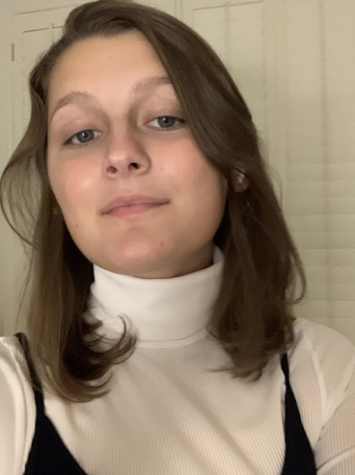 Lillian Arnold, Editor-in-Chief
Lilly's interests include writing and watching movies! She loves to create stories and characters, and plans on majoring in English to become a teacher,...