College Application Roundup
Although COVID-19 has thrown many school events off schedule, a daunting part of senior year still remains: the college application process. Allen High School has various resources such as Naviance and counselors to guide students through the process, from creating a resume to hosting workshops about financial aid. As many seniors begin to wrap up their applications, they tend to look back and reflect on their journey. 
"Very overwhelming as there are so many deadlines and so much to get done," senior Jessica Metcalf said. "I made an appointment with my college and career advisor and she helped me out a lot."
Part of the college application process is finding the ideal time to start. Some students, such as senior Alyson Smith, found it difficult to start the process during the summer because staff and teachers were on vacation and "transcripts could not be sent." 
"I mostly figured out the process using research and the resources on Naviance," Smith said. "Even though I mostly started in September, my counselor did a good job keeping me on track."
While some seniors don't start until the beginning of senior year, there are many who began the process early, in the summer of their senior year, or even their junior year. 
"I started applying to colleges like way back in May or June," senior Vincent Nguyen said. "I had nothing better to do, and lockdown was in effect, so why not? Start drafting your essays at the end of your junior year and finish them up over the summer for submission."
The amount of schools seniors apply to vary. Some students, like senior Autumn Larsen, have applied to ten schools, while others such as Smith have only applied to two. There is not a correct amount of schools to apply to, but Metcalf recommends "looking into every school and getting as much information as possible about them."
Although many students stay in the U.S. to study, there are always a few students who want to travel abroad, such as senior Madison Ingman, who applied to five schools in the U.K., and ended up getting accepted into all of them. 
"Because I wanted to go international, I had to find an advisor outside of the school," Ingman said. "Applying to colleges was extremely stressful, but dedicate a few days to [the college application process] and you'll be okay." 
For the seniors that leave for college after high school, senior Autumn Larsen recommends "touring the campuses to get a feel for the area." 
"I want to be near a downtown area, so when I visited one of my schools, I realized it was more rural than I thought, so I applied regular decision instead," Larsen said. "I also recommend figuring out the differences between different types of applications and attend the sessions the high school offers on applying to colleges."
Although they can't go back to do things differently for themselves, the class of 2021 has advice to help the underclassmen through the process they will soon embark on. 
"Your dream school could be one you've never heard about," Metcalf said. "Consider every possibility because right now we're not tied to anything. Also, use the college and career center and advisors to your advantage. They're genuinely so helpful and take so much confusion out of the process."
Leave a Comment
About the Contributor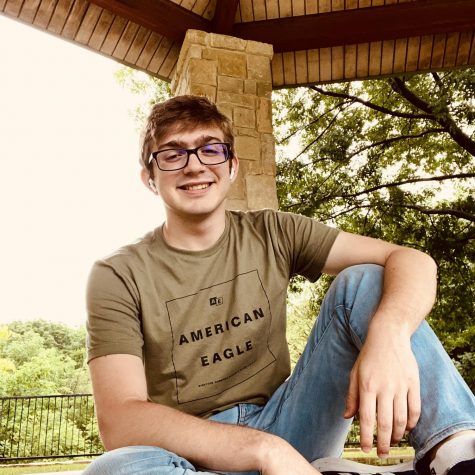 Alessio Haro, Editor-in-Chief
Co editor-in-Chief Alessio Haro enjoys creating comics and taking long walks in his free time. He is unsure what he wants to do in college, but he plans...