Small Business in Allen High
High school is often the start of new beginnings; a great place to meet new people and mentors. Despite all the changes that 2020 has brought, this year wasn't any different for Allen's teen entrepreneurs, who have started many new businesses.
One of the companies is Suburbia the Label, started by sophomore Rida Choudhry. She said she came up with the idea for Suburbia in eighth grade when she "got tired of seeing clothes [she] didn't like" and decided to try to make her own.
"The hardest part while I was in the process [of starting a business] was finding the correct people to help me do what I want," Choudhry said.
Because she's a teenager, Choudhry felt like many people didn't take her seriously. However, she still had trouble deciding whether "to [appeal to] the market or appeal to what" she wanted to put on the market herself.
Choudhry said her favorite part of being an entrepreneur is "when people take interest in [her] brand".
Choudry also hopes to add some of her own designs on t-shirts, as well as expanding her business to have men's wear and unisex along with women's clothing. More about Suburbia the Label can be found on their Instagram, @suburbiathelabel.
Sophomore Guila Garbani is another student who has a business. Earlier this year, Garbani started an account on Instagram where she sells her art for a commission. She said she chose Instagram as her main platform because it will help "expand [her] audience more and reach more people." According to Garbani, one of the hardest parts of creating her small business was deciding when to start her account, and what to price her work.
Garbani said that "[she is] definitely undercharging" but adds "because of the situations we are in now, I understand that people don't have a lot of money to spare."
One of the main reasons why Garbani started the account was because people would ask her to paint, or draw things for them on unconventional items, and she realized that she could "actually make a market out of it". She has painted "custom shoes, portrait commissions for some people… and people's dogs." More of her work can be found on her Instagram, @st.gart
The third small business is Sia Gosain's Redbubble page. She discovered Redbubble over the summer and thought it would be "a fun idea to create a few designs of [her] own" which led to the creation of her Redbubble sticker page, mostly inspired by "the issues going on around us… like the Black Lives Matter movement… and light brought to issues [such as] mental health awareness."
She created her page to "take action and actually do something to benefit these issues." She picked stickers because she felt like when you "buy a sticker you're actually accomplishing something great because… you're donating to these causes."
"Redbubble is a website where you upload your designs and they use those designs… and put them on their own manufactured products. When someone buys the product off of Redbubble, part of the money goes to Redbubble and part of it goes to the creator," Gosain said.
Because she sees the importance in donating to and supporting these causes, Gosain said she personally donates her part of the sales from Redbubble to the organizations represented on her stickers.
The fourth small business is Elana Reyes' sticker Instagram story. Reyes, a sophomore, said "during quarantine she wanted[ed] to create something [by] combining [her] artistic skills…[she] decided to start her sticker business as a way to give back to the community."
"LGBTQIA, the Black Lives Matter movement" and "saving the planet," are some of Reyes's sticker themes which help spread awareness.
Reyes has a slightly different approach to sticker making compared to Sia. Although both feature amazing designs and contribute to great causes, Reyes has a different way of creating her products.
Reyes designs her stickers, using Adobe Illustrator, and then she transfers them over to her Cricut and printer. After the stickers are printed, she packages them and sends them off."
Reyes said one of her biggest challenges coming up with her store was "making sure [she] has good quality" products. "[F]inding one and seeking advice from people has definitely helped a lot," and "just trying to fit everything into [her] schedule" are two of Reyes's biggest challenges.
Reyes chose Instagram as her platform because she thought that it would be more efficient to fit the way she was planning to set up her market. Having an Instagram platform "made it easier for [her] to reach out" and it was definitely a cheaper option than "having to pay to get on the front page of Etsy," Reyes says.
Reyes said she also donates her profits to those in need, and depending on how much the sticker bundles cost, a percentage of those will be going to organizations that fund those causes. The amount of her money going towards charity "just really depends[s] on how much it costs to make it."
Reyes said she considers expanding her business to include vinyl, adding that she wants to include "vinyl cups… and customizable vinyl things around those current events." Reyes said she also plans to incorporate face masks into her company, saying that "it would make a great way for people to see [her] product, [and] show what they're supporting and representing." Instead of finding popular organizations to donate to, Elana looks for "[organizations] that are definitely hidden, [she] definitely tries to angle more towards those.
Reyes said she plans to "take [her business] as far as [she] can go", saying "[she's] been working on it a little bit throughout the days, trying to get as much as [she] possibly can." But for the time being, she's juggling her stickers with schoolwork.
Check out these amazing small businesses in Allen High school and support your peers by contributing to their causes and spreading the word! Check out @simply.giving on Instagram to buy some of your own stickers, and support amazing causes.
Leave a Comment
About the Writer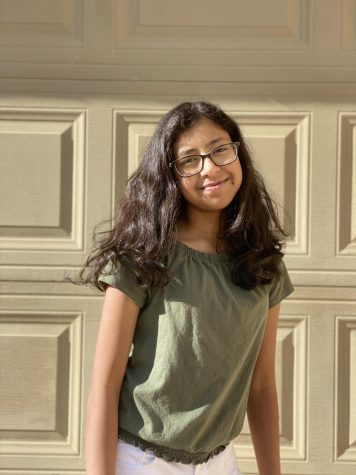 Aaryana Sharma, Staff Writer
Aaryana Sharma is a sophomore at Allen High school who loves to write poetry and read comics. When she isn't juggling her homework or writing she can be...